Felicity Winkley: "It's a Key Part of Our Culture That We Don't Operate Hierarchically"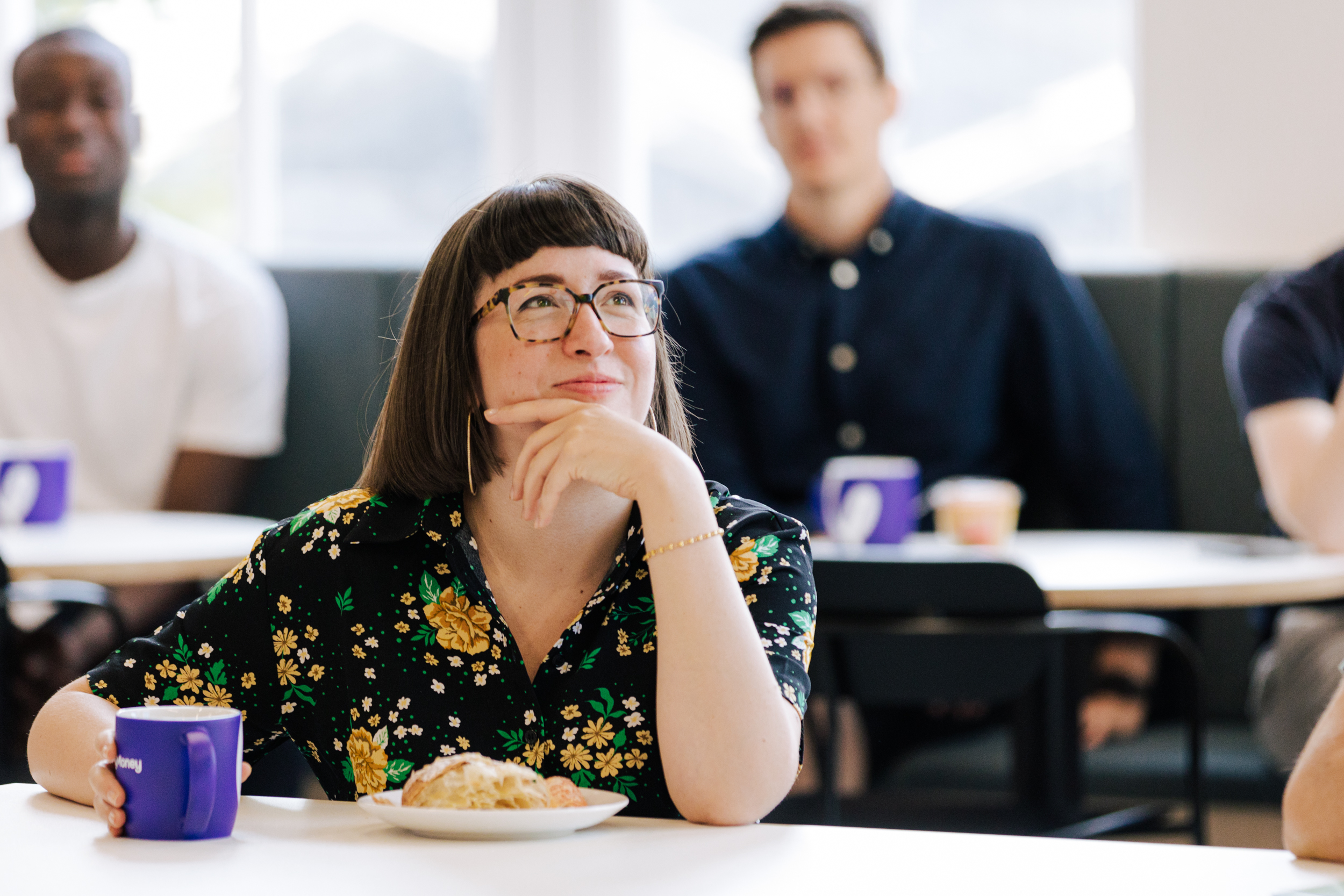 A pre-event interview with the People Director at TotallyMoney.
On October 11th, more than 30 speakers from industry-leading organisations will come together to debate the future of work at our upcoming conference in London.
One such speaker is Felicity Winkley, People Director at TotallyMoney, who will take part in a panel discussion talking about engagement and culture in the digital world. Felicity will be joined by the Associate Director of Employee Experience at Coca-Cola, Suzy Jearum, and the Head of Internal Communications and Engagement at British Red Cross, Charlotte O'Reilly.
Ahead of the Future of Work Conference, we conducted a pre-event interview with Felicity, discussing the topic she'll talk about and her predictions for the future of work.
HI FELICITY, PLEASE INTRODUCE YOURSELF AND YOUR ROLE AT TOTALLYMONEY.
I'm Felicity, and I'm the People Director at TotallyMoney. I started my career at TotallyMoney in 2016 and I worked there for 5 years. I recently rejoined the business in July, and it's great to be back. The role hasn't changed much in the last couple of years while I've been out – as a generalist role, it's very varied, and I also sit on the leadership team here, which is great.
TotallyMoney is quite grown-up now, compared to where we were when I first joined. A large part of my role is supporting the phase we're in now and making sure we have good structures, policies and processes in place while keeping hold of some of the fun, creative and scrappy parts of us that feel true to our culture and how we like to work.
Outside of TotallyMoney, I'm also an HR Trustee for a South London charity called CareDogs, which seeks to solve isolation in older people by connecting them to volunteers for companionship and dog walking together. It's been really interesting for me to learn about Trustee responsibilities and the charity sector, as well as establishing everything we need from scratch.
AS AN EXPERIENCED PEOPLE DIRECTOR, WHAT DO YOU VIEW AS THE KEY COMPONENTS OF A HEALTHY WORKPLACE CULTURE?
For me, a healthy workplace culture is one where there is enough structure in place that people feel supported; at the same time, there should be enough autonomy and trust so that employees are able to take responsibility and operate independently. One of our values is Account For Yourself, which really speaks to that – and it's a key part of our culture that we don't operate hierarchically, which is also supported by the fact that most of our employees work cross-functionally.
Working this autonomously relies on not having a blame culture, and making sure folks feel psychologically safe. For example, a lot of the principles Edmonson talks about in The Fearless Organisation (being able to challenge, ask questions, and experiment) only work if you aren't worried about the consequences of making a mistake or someone correcting you in front of others. At TotallyMoney, we really value experimentation, and using data to help make the best decisions (Build, Measure, Learn is another value), but that means we need to be comfortable with trying something and it not working out.
WE ARE REALLY EXCITED TO HAVE YOU JOIN US AS A PANELLIST AT OUR UPCOMING EVENT. WHAT CAN OUR ATTENDEES LOOK FORWARD TO LEARNING FROM YOU ON THE DAY?
I'm mainly there to learn from others myself! But it will certainly be interesting to share what we're doing and hear from the other panellists about how they are managing hybrid and maintaining good levels of engagement amidst these new ways of working.
One of the things I'll be speaking to is the way that we've had to review and pivot our policies to make sure we're keeping up with employee needs – like our Working from Anywhere policy – and how to ensure we're being responsive as we encounter situations that are new to us, or for which there is no precedent. I've also been thinking about how to keep core values front of mind, if culture is less in person – which is quite challenging!
MANY ORGANISATIONS ARE FINDING IT HARD TO KEEP THEIR EMPLOYEES ENGAGED WHEN WORKING REMOTELY. WHAT ARE YOUR TIPS ON CREATING A HEALTHY CULTURE IN THE DIGITAL WORLD?
For us, maintaining a healthy culture is about making opportunities to connect digitally to fill some of the gaps now that we aren't in person as much as we used to be. For example, we use the Donut app to make random introductions for a virtual coffee, to encourage employees to take time to chat – and bring back some of those water-cooler conversations that don't happen so much when we're working from home! During Covid, we also set up a digital radio station – #tmradio – that integrates with Spotify, where employees host their own shows and can gather together to listen in real time with a chat facility too.
We use Slack as our messenger app, which is great, but like with any direct messenger some things might get lost in translation that wouldn't if you were having a face-to-face conversation. One thing we've found quite helpful is sharing a couple of principles about how to be a great digital colleague: both reminding current employees about them, but also taking new joiners through them as part of our induction. That includes things like saying good morning first thing when you log in, updating your status to reflect your availability (we have flexible hours so people are encouraged to pop out in the middle of the day for example), and being mindful of how someone at the end of a Slack message might be feeling!
LASTLY, WHAT ARE YOUR PREDICTIONS FOR THE FUTURE OF WORK?
I am a bit fed up of the phrase "new normal" but it does the job of capturing where we find ourselves today, and particularly the hybrid ways of working which we've adjusted to and are definitely here to stay. I think we're seeing that in terms of People & Culture, the flexibility we're now able to provide employees has been fantastic, and most employees would not want to see any reversal. We therefore just need to continue to optimise and find the right balance between this flexibility and maintaining some in-person culture and collaboration which our employees still value too (and which is the difference between them choosing to work for us or choosing a fully remote role).
I think we are also increasingly going to be seeing AI coming through and making improvements to our ways of work – as it feels like we are really just in the early days of understanding what we're going to be able to do with this in the People space. I've already started looking at apps that help with management coaching, transcribing 1-to-1s and setting meeting agendas, and that integrate with existing apps to help employees find policy information from the staff handbook for example. So, I am looking forward to seeing how all of these tools develop and how we can use them to work smarter.
If you are interested in attending Felicity's session and learning from other industry experts, make sure you reserve your free ticket for the Future of Work Conference here. Taking place at The Brewery in London, this event will allow you to network with like-minded individuals and equip yourself with the tools you need to prepare for the future.