Hayley Mann: "Seeing more women in sport and senior roles is a passion topic of mine"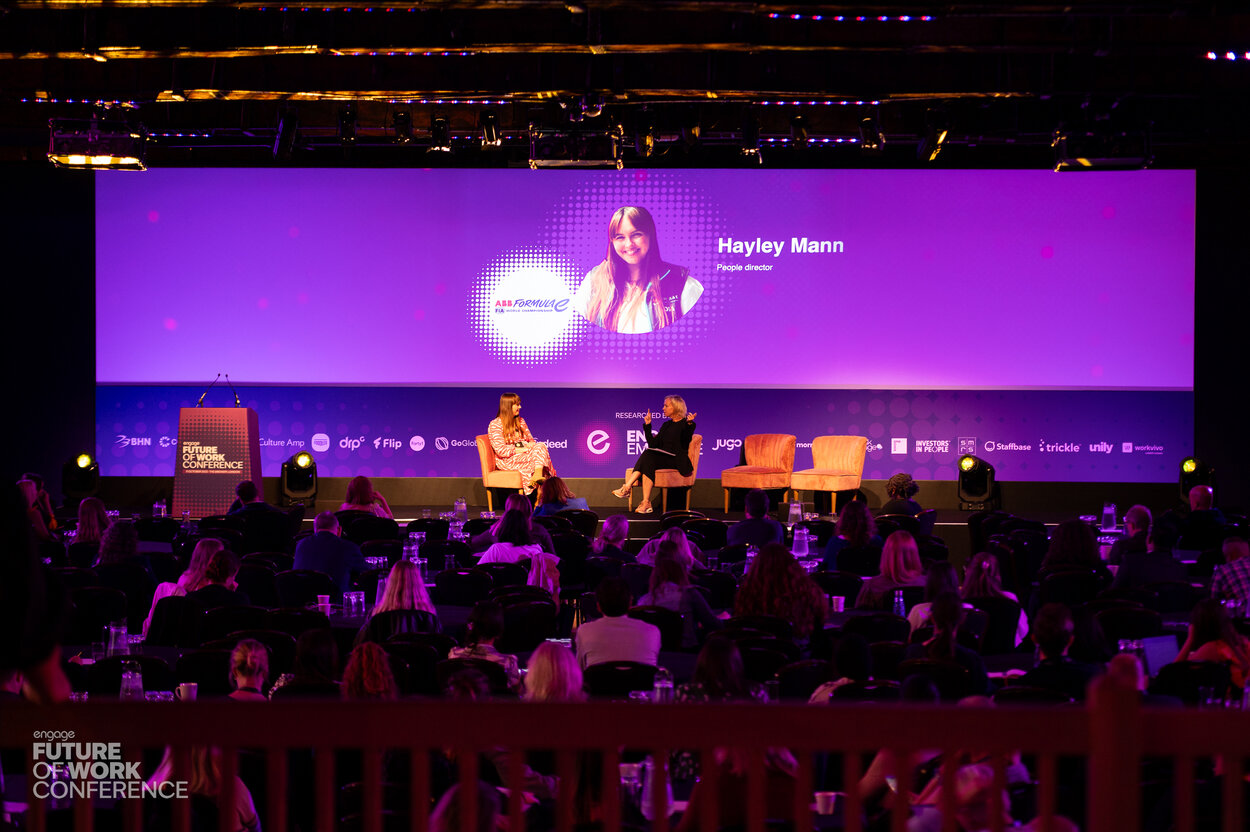 A post-event interview with Formula E's VP People
At our Future of Work Conference last month, Formula E's VP People Hayley Mann took part in an exclusive fireside chat with Charlotte Dahl, Creative Planning Director at Woodreed. Together, they discussed Formula E's People agenda and the challenges they have faced in terms of employee engagement. Now, we had the opportunity to catch up with Hayley post-event to find out what she views as the biggest takeaways from her session.
HI HAYLEY, PLEASE INTRODUCE YOURSELF AND YOUR ROLE.
My career has spanned Hospitality, Retail, Beauty, and Sport, with the latter starting in Rugby and now Motorsport. For the last year and a half, I have been working as VP, People for Formula E. We are a single-seater motorsport championship for electric cars, travelling the world racing in iconic cities such as Tokyo, Monaco and London, championing our sustainability message. The first sport to be Net Zero since its inception, we're more than just the race. We share our technology to pioneer the way for the road cars of tomorrow.
We have over 200 employees at Formula E, and it's the role of the People Team to ensure we are enabling our people to deliver high performance. We build and evolve effective systems and processes, develop and unlock great leadership, alongside nurturing a culture that is inclusive and representative of who we are.
My role as VP, People is to partner with the CEO, supporting the Executive team to ensure the People agenda runs through all strategy and decision-making and our employees' voice is represented to ensure we support and enable our greatest asset, our people, to be their most effective.
Outside of work, I'm a mum of two little ones who keep me and my husband on our toes. I live on the South Coast, commuting into London regularly which is all worth it to be at the beach nearly every weekend. Maintaining the balance is an eternal juggle, but I'm lucky to have a brilliant support network whose help I accept on a regular basis!
WHAT WERE THE MAIN REASONS FOR SHARING YOUR STORY AT OUR CONFERENCE?
Firstly, there are so many brilliant things happening across People/HR, joining a group of like-minded people to share challenges, experiences and activities is always a great reason.
Secondly, I often get asked how I got into sport. To share my experience, my learnings and any tips was a real driver for me. Seeing more women in sport and senior roles is a passion topic of mine. If one person could walk away with an idea, a thought or debunking a myth that's stopped them from going for it, that would be great.
Finally, to be able to introduce Formula E, and shine a greater light on who we are, what we do, and what skills we look for was a real benefit.
WHAT ARE THE BIGGEST TAKEAWAYS THAT OUR COMMUNITY CAN LEARN FROM YOUR SESSION?
Regardless of industry or size of organisation, we share so many common challenges. For smaller organisations that may not have a huge HR or People resource, doing fewer things better and investing in the area that's going to have the biggest impact, I believe is key. For us, that's leadership, equipping our leaders to be able to have open and transparent two-way conversations and to give clarity on what great looks like whilst providing the unique conditions for their teams to be successful.
ARE THERE ANY PROJECTS THAT YOU'RE CURRENTLY WORKING ON THAT YOU'RE EXCITED ABOUT?
Introducing Learning & Development to Formula E just over a year ago has allowed us to really invest in some centralised activity. We've launched 'Leading the Charge', our People Manager essentials development programme, rooted in our values with a blend of in-person workshops, online learning, inspiring external speakers and peer-to-peer coaching.
We've taken what's worked well here and started to build out a People Operating Model. This defines how our mission and vision, values and leadership framework work in harmony together. Not only does it outline what great looks like, but it provides tools to bring it to life, including coaching questions to use with a peer or drive self-reflection, a framework to build giving feedback around, and a way to build clear development plans with tangible actions. How we use this model, bring it to life, and embed it throughout the organisation will be our focus for this year.
LOOKING TO THE FUTURE, WHAT WOULD YOU SAY ARE THE KEY TRENDS SHAPING THE FUTURE OF WORK?
Honest, authentic two-way communication and engagement and creating inclusive environments that allow all to thrive. We will all need to keep asking our employees what they need to be successful, using data points, truly listening and then doing something about it. This allows us to keep focusing on creating a culture of transparency and openness. Be clear about who we are, who we aren't, what we can and cannot provide, and let employees choose.
To find out more about the 2023 Future of Work Conference, read our highlights here.