Future of Work: Can technology help us become more human?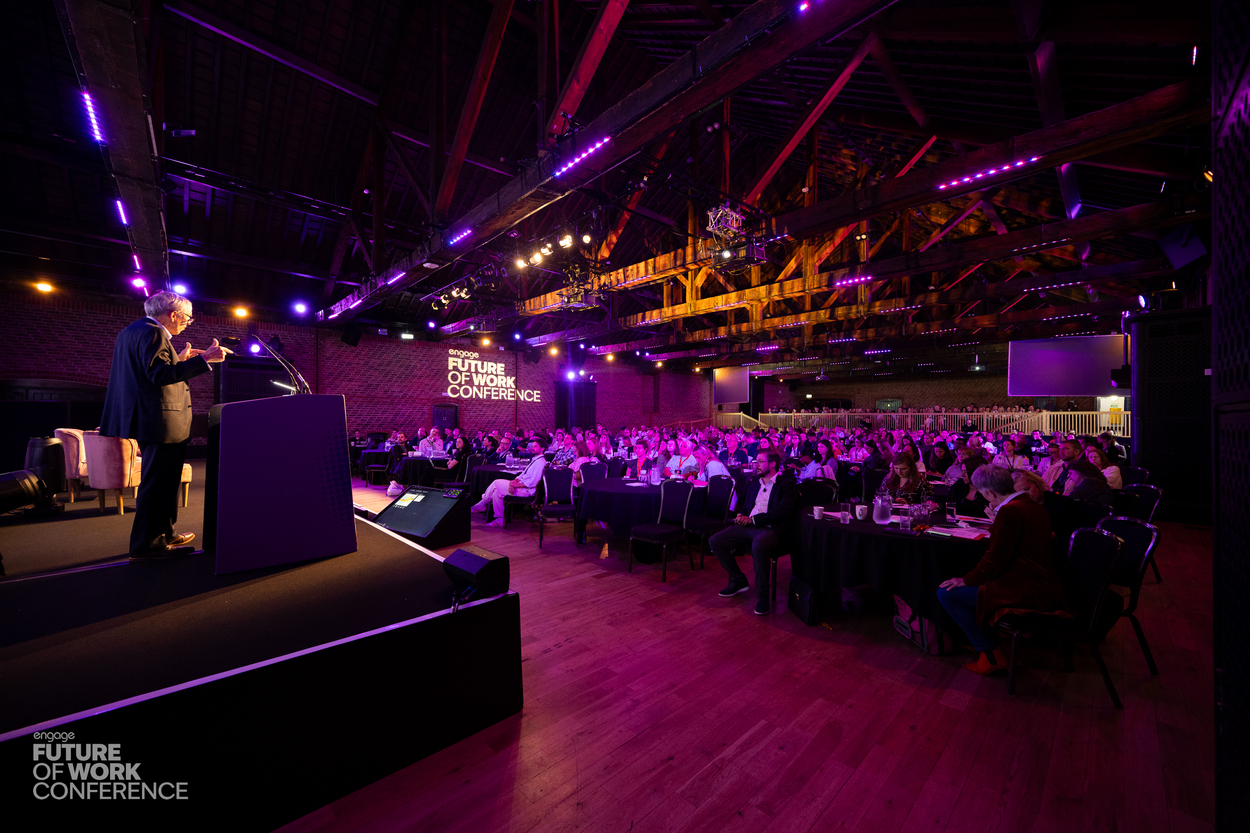 The workplace of yesterday is not the same as that of today and it is wildly different from the one of tomorrow. With the advent of Artificial Intelligence and the worldwide adoption of remote work, organisations are now working harder than ever to create a healthy workplace culture and keep their people engaged.
It is against this backdrop that we held the 2023 Future of Work Conference in London last week (October 11th). The event was a huge success, with a record-breaking number of attendees coming together to network with and learn from industry leaders.
Taking place at The Brewery on Chiswell Street, the conference featured numerous case study presentations, exclusive fireside chats, and panel discussions across 5 beautiful halls. Those who attended had the opportunity to hear from speakers representing organisations such as Amazon, Bupa, Coca-Cola European Partners, Alzheimer's Society, British Red Cross, British Council, Fortnum & Mason, GSK, British Transport Police, Lloyd's Banking Group, Which?, Formula E, Unicef UK, Engage for Success, and more.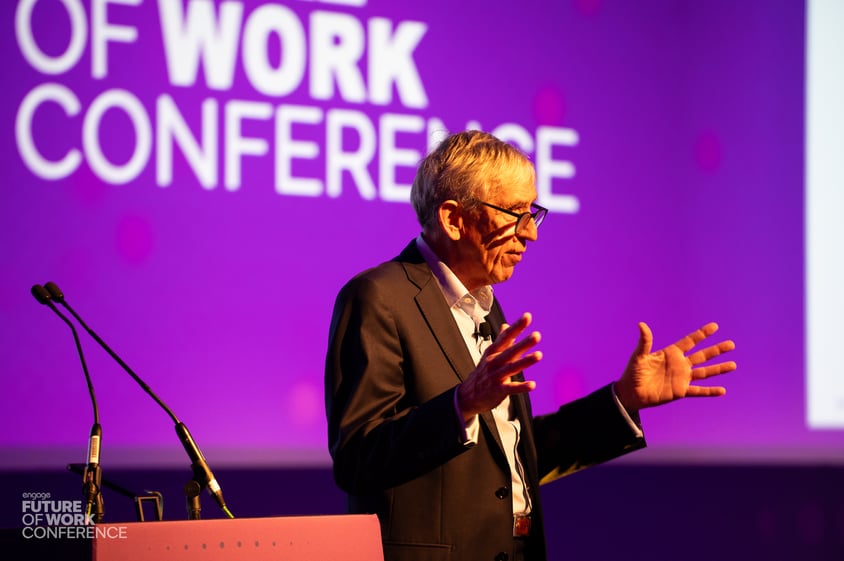 Co-Chair of Engage for Success David MacLeod OBE
WHAT IS THE CURRENT LANDSCAPE?
We cannot launch ourselves into discussions about the future of work without first familiarising ourselves with our current landscape. For this reason, Co-Chair of Engage for Success David MacLeod OBE opened the event by painting a picture of today's world of work; more specifically, he shared that customers are more demanding than ever before, 50% of employees want more voice, and there is a focus on transparency, diversity and inclusion, as well as wellbeing and stress.
Considering this, David stressed that having the right strategy is no longer enough in 2023. Instead, leaders need to integrate their people into their strategy, promote psychological safety and create a workplace culture where employees feel supported:
"Culture eats strategy for breakfast," David reminded the audience. "The question is, what's your culture?"
Identifying the enablers of psychological safety and a healthy workplace environment, he pointed to a strategic narrative, engaging managers, employee voice, and integrity.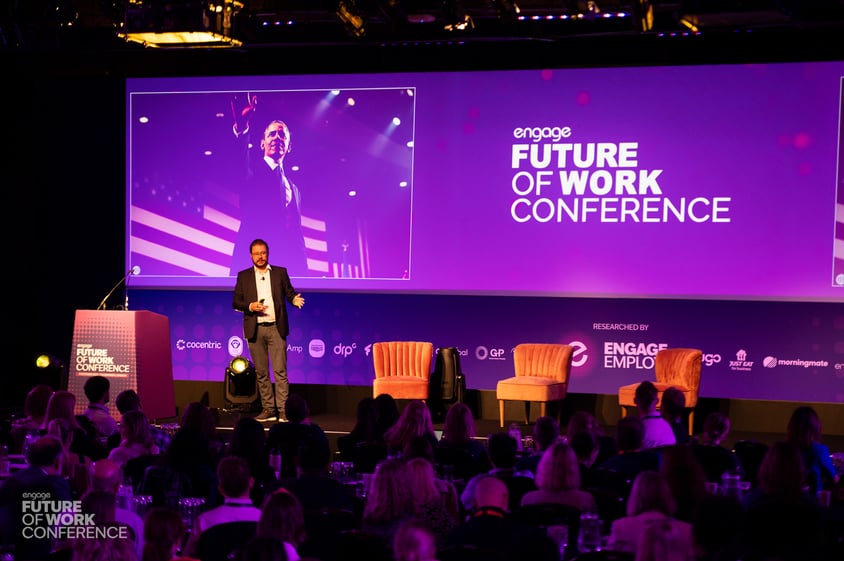 Principal Strategic Advisor at Staffbase Sebastian Hoff
WHAT LIES AHEAD?
Following David's session, Principal Strategic Advisor at Staffbase Sebastian Hoff presented what the future of work holds by sharing a few impressive uses of AI. Instead of simply talking about the latest developments, Sebastian showcased them as he played an audio recording of former US President Barack Obama introducing the Future of Work Conference.
"Obviously, this is not the real Barack Obama," Sebastian joked, revealing that it took him just a few seconds to record the audio. What is more, he shared that the photograph he had included alongside the recording was also fake, created using MidJourney in just one minute.
Not surprisingly, the audience had two distinct reactions to this revelation: excitement and concern.
Sebastian then presented the negatives and positives of using AI in communications. On the one hand, it could create fake images, be biased, spread misinformation, and erase the need for comms. However, on the other hand, it could help speed up research, enable local editors, create better content faster, and provide chatbots for services and knowledge.
It follows then that organisations must consider adopting certain guidelines to ensure the safe and regulated use of AI. Expanding on this, Sebastian suggested that businesses adopt the below pledge:
"We pledge never to produce artificial images, videos or voice recordings of our leaders and employees using AI."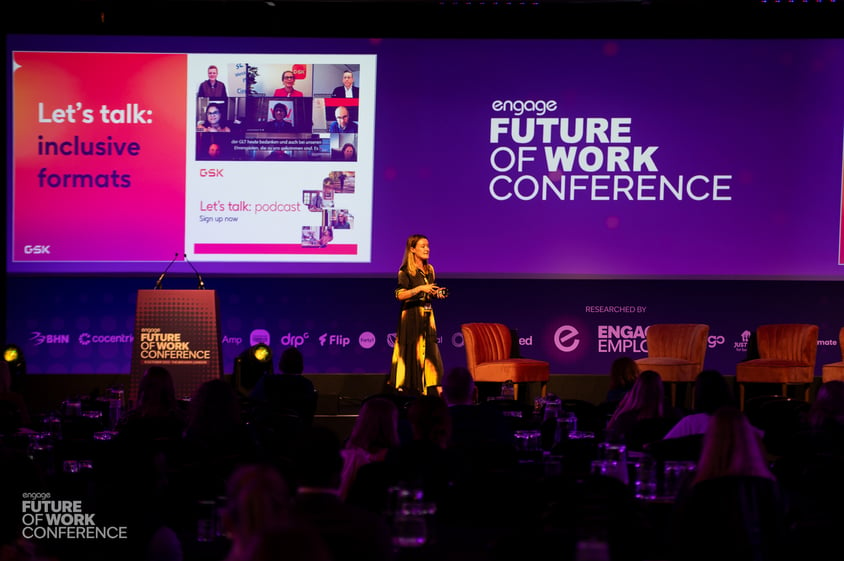 GSK's Director of Global Internal Communications Lizzie Parker
HOW CAN LEADERS USE DIGITAL TO SUPPORT THEIR PEOPLE?
GSK's Director of Global Internal Communications Lizzie Parker presented a brilliant case study, demonstrating how leaders can use tech and data to give their employees a voice and increase psychological safety. That is, she introduced GSK's 'Let's Talk' broadcasts, designed to answer any questions their employees might have. While the broadcasts have now resulted in 80% of employees saying that they feel comfortable asking what's on their minds, this was not the case in the beginning.
One of the biggest challenges GSK faced at the start of this project was giving people the psychological safety to share their questions. To encourage them to speak up, GSK created a mechanism whereby employees could input their questions anonymously and then have team members vote for the ones they wanted answered most.
Advising those seeking to adopt a similar mechanism, Lizzie shared:
Never delete a question because once you do, the trust disappears.
Always answer the most popular question first. In this way, you are showing that you care about what your people perceive as important.
Ask the questions verbatim, even if they have grammatical errors.
Lastly, you must make use of the advancements in technology to cater to all employees. Taking a case in point, GSK has added automated captions on live broadcasts with different language options. This, according to Lizzie, is crucial when you have a global team.
Moreover, GSK also makes its broadcasts accessible on-demand in different formats, such as audio recordings, transcripts, and videos. In this way, they ensure that people can interact with the content in the way they prefer at a time that works for them.
CAN TECH HELP US BECOME MORE HUMAN?
On the surface, technology and human connection appear as two completely separate entities. However, numerous speakers at the Future of Work Conference (such as Lizzie) revealed that depending on how we use it, technology can help us give our people a voice.
During a panel discussion titled "Engagement and Culture in a Digital World", this point was also underlined by the following panellists:
Suzy Jearum, Associate Director of Employee Experience at Coca-Cola European Partners
Felicity Winkley, People Director at TotallyMoney
Charlotte O'Reilly, Head of Internal Communications and Engagement at the British Red Cross
Together, they discussed how they measure engagement using technology, how digital allows them to support their people, and what they envision for the future of work. All three revealed that they measure engagement through surveys once a year (Coca-Cola), once every 6 weeks (TotallyMoney), and twice a year (British Red Cross).
Sharing the benefits of digital, Charlotte explained that when disaster strikes, the British Red Cross can respond quicker than ever before: "Now, people can act immediately and jump on a Zoom call if something happens on a Saturday night."
Looking ahead, all three panellists shared the same views for the future: AI will help us with the basics, but we must never lose the human element. This was further supported by our event chair and CEO of Woodreed Jo Moffatt, who shared that digital must be seen "as an enabler to being more human".
Over the coming days and weeks, we will delve deeper into the topics discussed at the event by bringing you post-event interviews, audio recordings of panel discussions and fireside chat sessions, as well as on-demand videos of case study presentations.
Want to share your thoughts about the future of work? Email editor@ebm.uk