2023 Was a Record-Breaking Year for the Employee Engagement Summit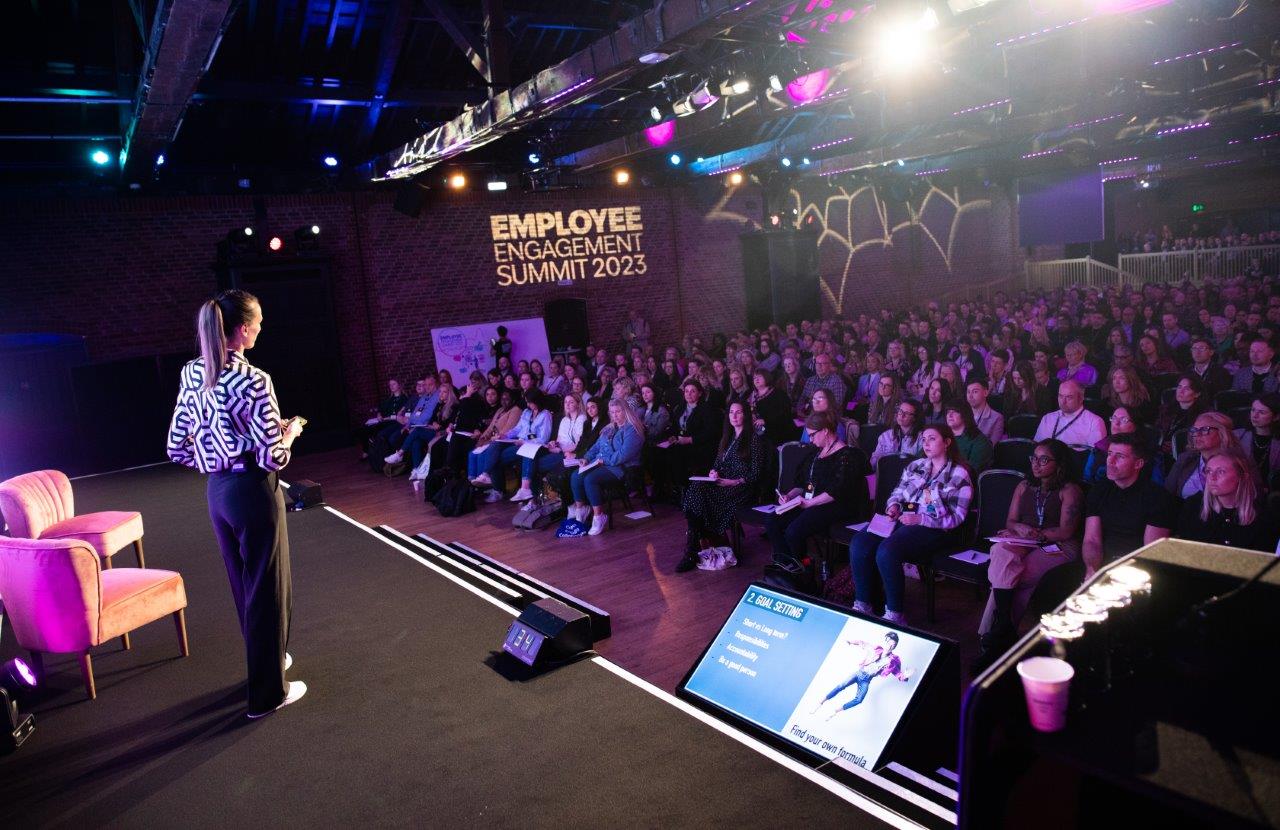 The 10th anniversary of the Employee Engagement Summit took place last week, bringing together 1,000 industry experts at The Brewery in London. Known as Europe's largest employee engagement event of its kind, the conference showcased the importance of high-impact, purpose-driven employee engagement strategies, with over 70 presentations taking place across 4 halls.
It is not surprising that 2023 was a record-breaking year for the summit, considering that our delegates had the chance to hear from the Women's Euro 2022 Champion, Queen of the Jungle and Soccer Aid Captain, Jill Scott MBE.
In addition, our event presented attendees with thought-provoking presentations, interviews, and panel discussions featuring speakers from organisations such as Virgin Group, Rolls-Royce, YouTube, Indeed, Royal Mail, Diageo, EY, Mercedes-AMG Petronas Formula One Team, Evri, Lloyds Bank, River Island, HSBC, John Lewis, Wolters Kluwer, Coursera, and more.
FOSTER AN INCLUSIVE ENVIRONMENT
The day began with a presentation led by Nikki Humphrey, the Chief People Officer at Virgin Group. In her session, Nikki revealed how the organisation creates an inclusive environment that makes every employee feel welcome by simply being human. Delving deeper into this, she argued that being human helps create a strong sense of inclusion, fosters a feeling of belonging, and helps people be at their best.
Taking a case in point, Nikki shared how Virgin Atlantic launched the UK's first ever Pride Flight in 2019, which featured an all-LGBTQ+ crew. Moreover, the organisation scraped its gendered uniforms last year, ensuring everyone feels included and free to be themselves.
Throughout the day, Nikki's message was reiterated by other speakers, who stressed the importance of being human and fostering an inclusive environment. One such speaker was Rolls-Royce's Global Inclusion Lead Natasha Whitehurst, who took part in an exclusive fireside chat with Charlotte Dahl, our event chair and the Creative Planning Director of Woodreed.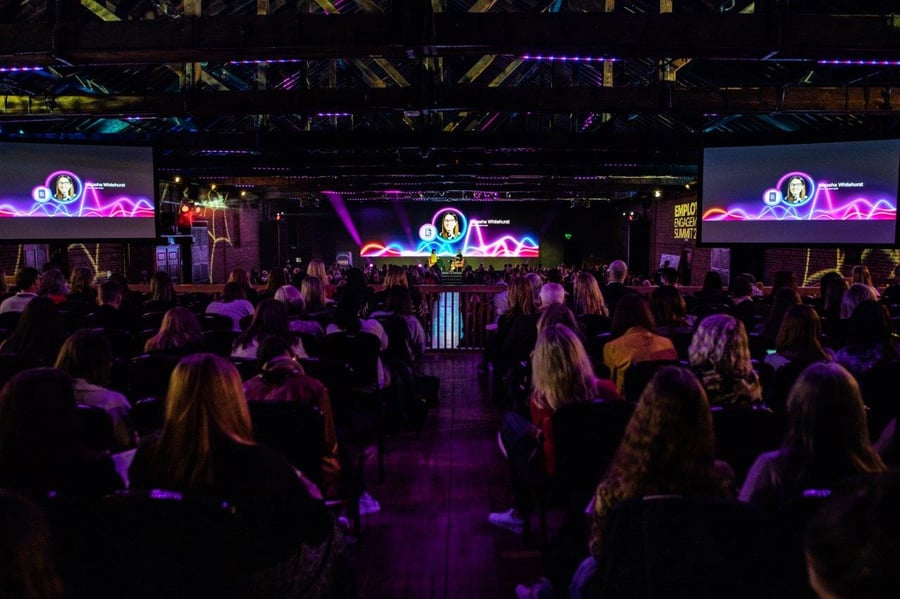 During her interview, Natasha argued that diversity is everything that we are and that it encompasses more than race and gender. Explaining why companies should have 'human-inclusive leaders', Natasha reminded the audience that today's workplace consists of 5 generations of employees – all of which have different views and values.
Unpacking this further, Natasha revealed that millennials and Gen Z employees want to work for purpose-driven organisations. It follows then, that leaders should consider what matters to all employees if they wish to foster an inclusive environment. Further commenting on this, Natasha argued that when an organisation leans into inclusion, it will see diversity as the output.
JUDGE BASED ON PERFORMANCE, NOT RESULTS
Inclusion, purpose, and leadership were topics that were also explored by our most-anticipated speaker of the day, Jill Scott. In a presentation titled 'It's not the splash you remember, it's definitely the dive', Jill discussed the importance of having a positive mindset, working to make yourself better today than you were yesterday, and taking it day by day.
Explaining that it is the journey – or 'the dive' – that matters most, Jill urged the audience to focus on performance rather than results. What is more, she revealed how she ensured that her teammates felt seen and heard, admitting that she would use coffee breaks as a way of checking in with her colleagues. Expanding on this, Jill shared that it is crucial for leaders to build relationships off the pitch or outside of the office, and to be able to have conversations that do not revolve around work.
"Create an environment where everyone can thrive. It's not the splash you remember, it is definitely the dive," Jill concluded.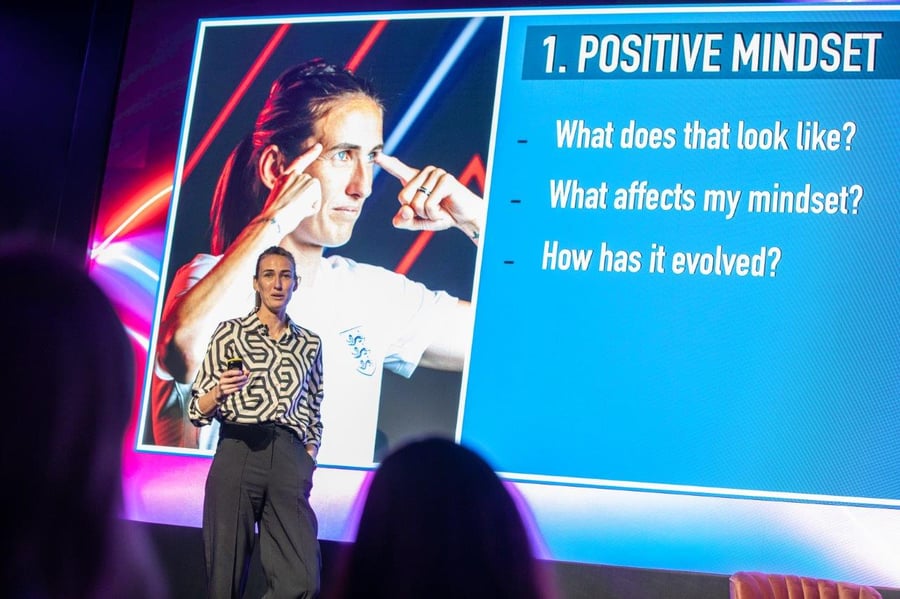 IMPLEMENT A SUCCESSFUL WELLBEING STRATEGY
Burcin Ressamoglu, CEO of Sodexo Engage, followed Jill's session and built on the importance of checking in with your colleagues. Burcin began her presentation with a shocking finding, revealing that 61% of UK employees who left a job in the last year (or plan to do so over the next year) cited poor mental health as a factor. Taking this further, she shared that on average, employees took 18 days off to deal with stress, depression, or anxiety in 2022.
Throughout her session, Burcin presented several other findings, all of which reiterated the significance of checking in on employees, fostering an inclusive environment, and implementing a wellbeing strategy. To help leaders nurture a healthy workforce, Burcin stressed the importance of having leadership commitment, making tailor-made solutions, introducing rewards and recognition programmes, and seeing wellbeing as a priority rather than an initiative.
FUTUREPROOF YOUR WORKFORCE
Knowing that employers and employees alike are becoming increasingly worried by the rise of automation and artificial intelligence, the 2023 Employee Engagement Summit addressed the future of work. More specifically, the summit featured a presentation by Coursera's EMEA Partnerships Director Frances Quirke, who discussed the future of work and how organisations can stay ahead of the curve.
According to Coursera's research, skill development is urgently needed in most businesses as automation has forced employers to reskill and upskill their staff in order to stay competitive. Interestingly, Coursera's study also found that employers are moving towards skill-based hiring, meaning that your CV is no longer as important as your skills.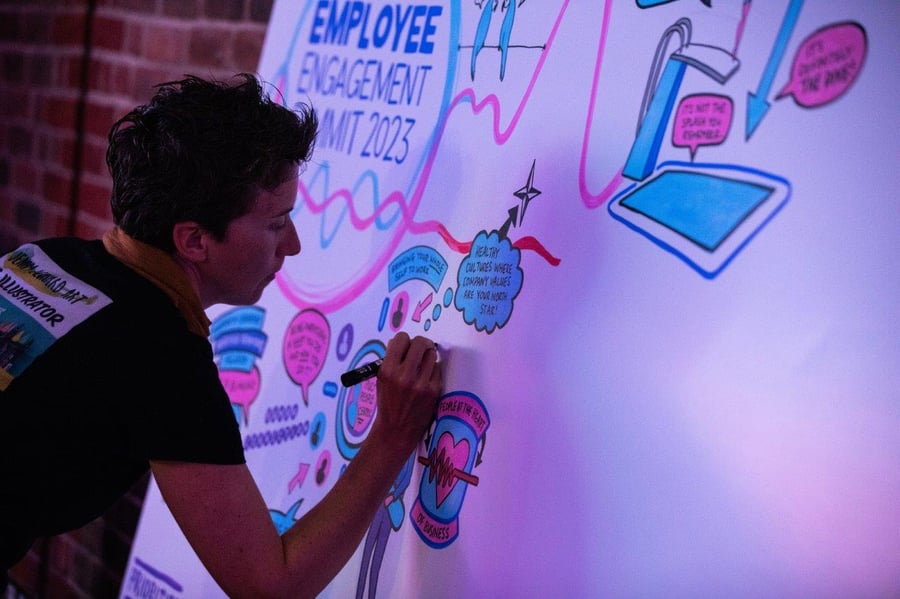 A TRULY PEOPLE-CENTRIC EVENT
While many view artificial intelligence and automation as causes for concern, the 2023 Employee Engagement Summit stressed – time and time again – the importance of being human. In my opinion, what will make organisations stand out going forward is how human they are and how they treat their people.
This view was further strengthened during a panel discussion featuring HSBC, Wolters Kluwer, and Lucky Saint. Discussing the importance of people-centric organisations, the People Director of Lucky Saint Sacha Harvey said: "People will never forget how you made them feel."
It is because of this feeling that the Employee Engagement Summit took place in person rather than online. Although the pandemic proved that conferences can be held in the digital world, the human connection one could feel when they were sat in the main room of The Brewery last week was irreplaceable.
Further enhancing and celebrating the human experience, the Employee Engagement Summit featured the live illustrator, Jenny Leonard, who beautifully depicted the key moments from the event as they were unfolding. Jenny's art was photographed by speakers and attendees alike on multiple occasions throughout the day. As a result, her work was not only an astonishing summary of the conference but also a nod to the importance of human connection and experience.
See how Jenny brought our conference to life below: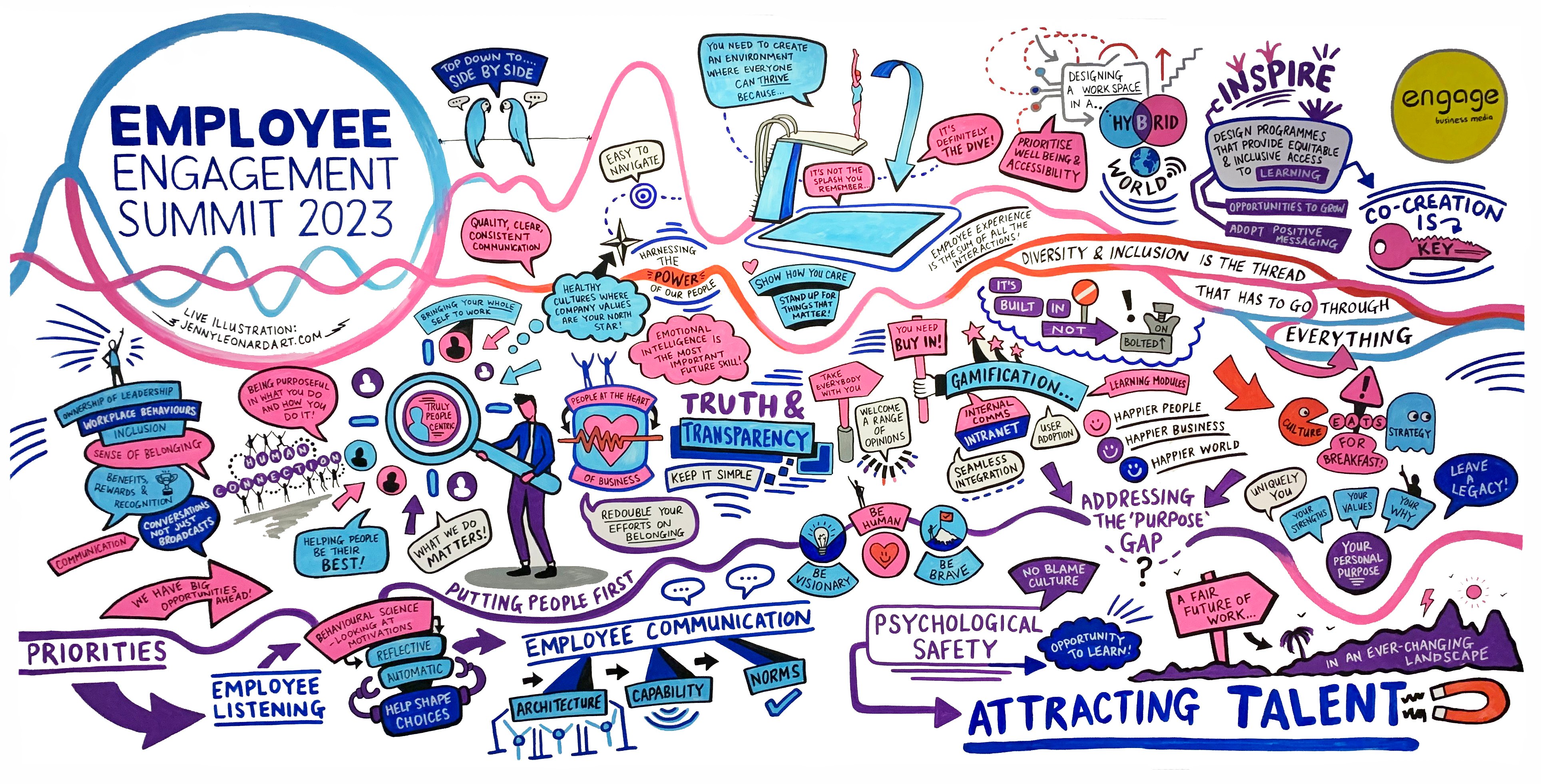 Over the coming weeks, we will be posting audio and video recordings of some of the event sessions. Make sure you keep an eye out for on-demand videos and podcasts as well as interviews on our Engage Employee blog.