Nicole Bearne: "Mercedes-AMG Petronas F1 Team has set new benchmarks for F1 success"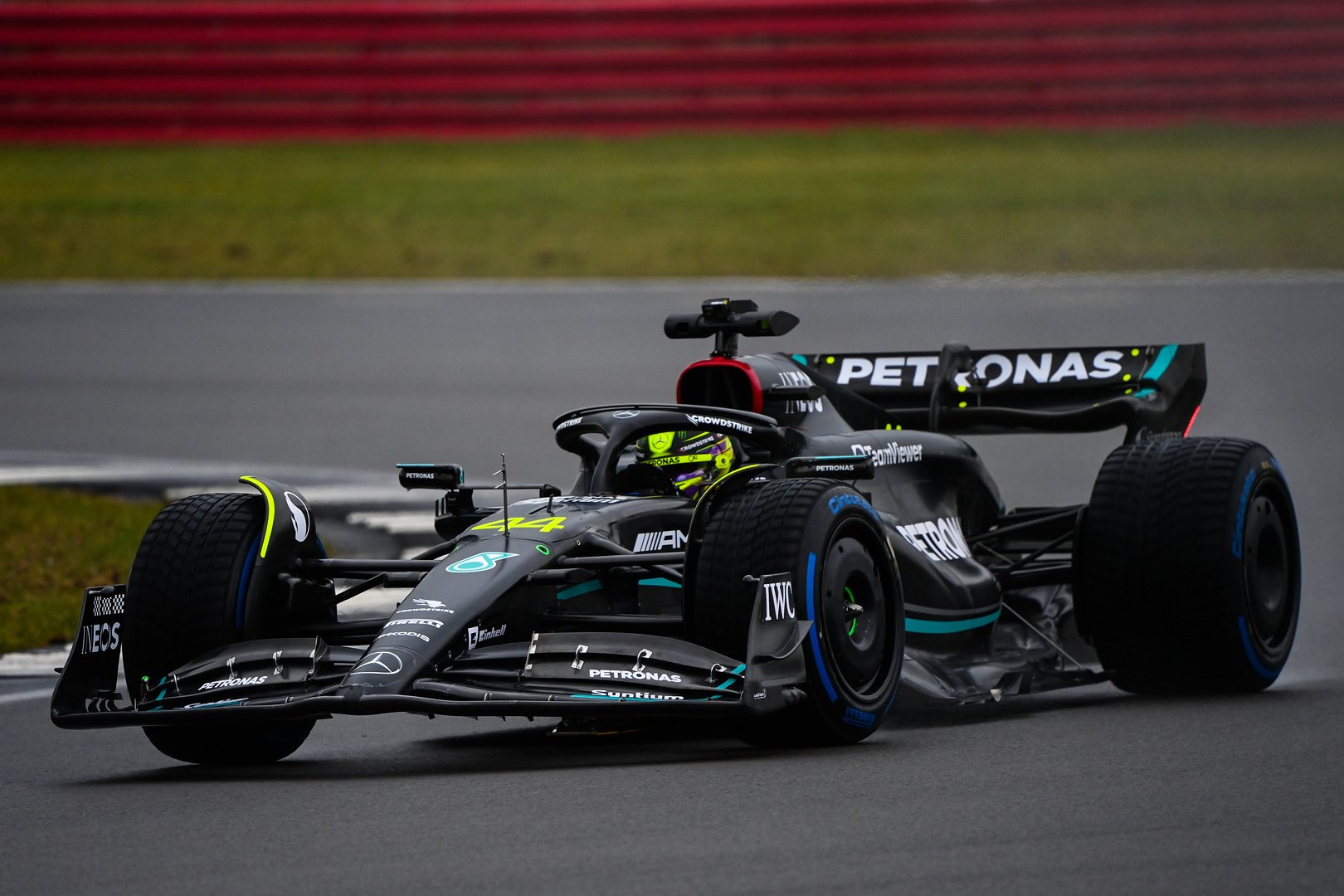 An interview with the Head of Internal Communications at Mercedes-AMG Petronas Formula One Team
At our last Employee Engagement Summit, attendees had the pleasure to hear from the Head of Internal Communications of Mercedes-AMG Petronas Formula One Team, Nicole Bearne. Taking part in a fireside chat at the event, Nicole discussed how Mercedes-AMG Petronas engages and empowers its team members. Now, she has delved deeper into the topics she explored at the 2022 summit, giving insight into some of the business' best practices.
PLEASE INTRODUCE YOURSELF AND YOUR ROLE.
Hi, I'm Nicole Bearne and I am the Head of Internal Communications for the Mercedes-AMG Petronas Formula One Team.
I started my career in motorsport as one of the founding members of the British American Racing Formula One Team, initially as Personal Assistant to the Team Principal. From there I stepped into a communications role, working trackside in PR and media relations. In 2007, I became Executive Assistant to Ross Brawn, supporting him in his position as Team Principal of the Honda Racing F1 Team. In 2009 we won both the Constructors' and Drivers' World Championships as Brawn GP. Nine years ago, I refocussed my role and created the Internal Communications function within our team.
Over the last 25 years I've been fortunate to work alongside some of the most respected names in the world of Formula 1, including world champion racing drivers Jacques Villeneuve, Jenson Button, Michael Schumacher, Nico Rosberg, Niki Lauda, and Sir Lewis Hamilton. Along the way, we've won 9 World Constructors' Championships and 8 World Drivers' titles.
Today I have responsibility for internal communication, employee events and charity/community programmes within our team. My focus is on ensuring that we are creating exceptional employee experience for our team members at all levels and career stages.
COULD YOU GIVE US A BIT MORE INSIGHT INTO WHAT THE MERCEDES-AMG PETRONAS F1 TEAM IS?
Mercedes-AMG Petronas F1 Team is essentially a high-performance engineering company with a sports team at its heart. We are a team of designers, engineers, mechanics, technicians, executives and more, competing at the very pinnacle of world motorsport – the FIA Formula One World Championship.
Based at two world-class technology campuses in the UK, the team designs, develops, manufactures and races the race cars and Hybrid Power Units driven by seven-time World Champion Sir Lewis Hamilton and race-winning team-mate George Russell. The team works across various shift patterns so our operations effectively run 24/7, covering a variety of disciplines from office-based design and support functions to manufacturing, testing and assembly.
Formula One is a uniquely demanding technical and human challenge, requiring the right alchemy of cutting-edge technologies, high-performance management and elite teamwork to deliver results at 23 Grands Prix around the globe in a race season running from March to December. We operate in a volatile, uncertain and highly competitive industry – we are only as good as our last race. And we are publicly audited on live TV every two weeks in front of millions of viewers globally. That's high pressure!
Mercedes-AMG Petronas Formula 1 Team has set new benchmarks for F1 success, winning both the Constructors' and Drivers' World Championships in 2014, 2015, 2016, 2017, 2018, 2019 and 2020, and the Constructors' title in 2021.
AS THE HEAD OF INTERNAL COMMUNICATIONS AT MERCEDES-AMG PETRONAS, COULD YOU SHARE THE KEY BEST PRACTICES THAT HELP SHAPE YOUR STRATEGIES?
In order to build sustainable high-performing teams at Mercedes-AMG Petronas, we take a holistic view. We aim to create an environment that encourages people to be at their best. That encompasses the physical environment, the technology we use and the culture we have built.
Our role in Internal Communications is to ensure that we are clearly articulating the vision and values of the organisation. We encourage team members to share their voice and take responsibility for outcomes, whilst maintaining the team's no-blame approach to failure. We encourage open and honest two-way communication, which in turn builds high levels of trust and safety, empowering our team members to innovate. This means the team can respond rapidly to change in the internal and external environment.
A key element of our approach is open and honest leadership communication – we have regular team updates from senior leaders and our race drivers throughout the year. We debrief every race weekend across the company with candour and examine where we could have done better. Where possible, these debriefs are held in person so that people can ask questions – even for the Night Shift!
It's important to provide opportunities for team members to ask difficult questions and raise inconvenient truths, so our leaders answer all the questions submitted during these briefings, regardless of how tough they may be.
HOW IMPORTANT IS IT TO KEEP EMPLOYEES ENGAGED IN A HIGH-PERFORMANCE TEAM ENVIRONMENT?
Employee engagement is key for creating teams that are motivated, productive, and committed to their work. As we know, this can lead to better performance, increased job satisfaction and reduced attrition. However, it's difficult to build high levels of engagement unless you are also creating great workplace experiences.
Employee experience covers every step along the employee's journey with their organisation, from the moment they see the job ad to their final day and beyond. This encompasses a myriad of 'moments that matter' throughout their career, which all contribute to their workplace experience.
Physical workspace, technology and culture all contribute to the overall experience of the workplace so it's important to ensure that all these elements are considered and optimised to give the best possible experience. That means building places where people actually want to work, with an open and authentic team culture that puts employees first.
ARE THERE ANY PROJECTS THAT YOU'RE CURRENTLY WORKING ON THAT YOU'RE EXCITED ABOUT?
In the coming months we will be continuing to implement new processes to ensure we are creating the very best environment for our team members. There are some really interesting programmes being planned, including a refresh of our internal brand and a number of environmental sustainability initiatives.
In the longer term, we are planning to redevelop our campus and build a dedicated Health & Wellbeing Centre. This will bring together our social and relaxation breakout spaces, health and fitness amenities and a first-class restaurant, all under one roof. It will be an exciting step towards providing our hard-working team members with even better facilities for exercise, relaxation and to make social connections. This will also be a great asset for our internal communications and employee events teams, so I'm excited to see it take shape!
LOOKING TO THE FUTURE, WHAT WOULD YOU SAY ARE THE KEY TRENDS SHAPING THE INDUSTRY?
We're hearing a lot about AI and how it will have a significant impact on the communications industry as a whole. Much has been written about chatbots such as ChatGPT and the fear that these will automate traditional comms tasks such as content creation. I believe the industry will evolve with the technology, as it always has done, and whilst change is likely to be inevitable, it will be up to communications professionals to make AI work for them, rather than against them.
One thing that AI will struggle to replace, however, is human connection. With remote and hybrid working increasingly becoming the norm, internal communications and employee engagement specialists have a role to play in finding new ways to foster a sense of connection and community among employees.
Adopting a holistic approach to employee experience will continue to be key, with a focus on improved well-being and more personal development and growth opportunities at all career stages. Organisations which encourage inclusive workplaces will continue to benefit from the creativity and innovation that comes from having a diverse group of employees.
All these trends highlight the need for companies to be proactive and intentional in their approach to employee experience and create workplaces that put people first.
Over the coming weeks, we will be publishing similar interviews, podcasts, and articles featuring speakers from our 2022 and 2023 events so continue to watch this space to always be informed!
Nicole Bearne, Head of Internal Communications at Mercedes-AMG Petronas Formula One Team