Karen Dobres: "We became the first football club to resource male and female players equally"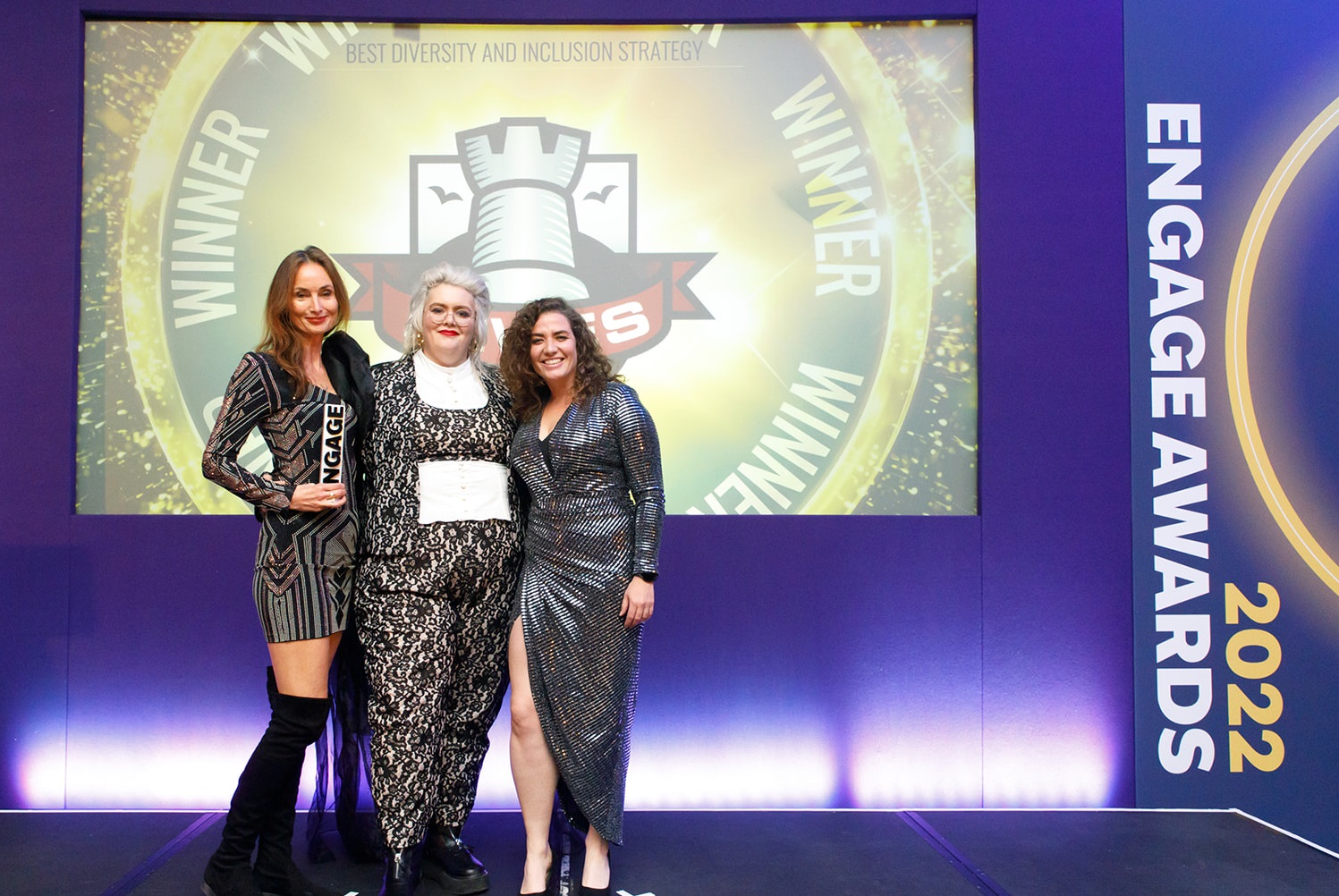 An interview with Lewes FC Board Member Karen Dobres.
Lewes FC received the Best Diversity and Inclusion Strategy Award at the 2022 Engage Awards in November. The football club earned this award for tackling sexism, closing the gender pay gap, appointing a woman as its first CEO, making its ground more inclusive to women, and developing a campaign to call out misogyny.
Speaking to Engage Employee, Lewes FC's board member Karen Dobres discussed the above achievements and revealed how the football club realised its ambitious goals.
LEWES FC HAS EARNED AN AWARD FOR ITS EFFORTS TO COMBAT SEXISM IN THE INDUSTRY. WHAT ARE THE MAIN ISSUES AFFECTING FEMALE PLAYERS AND FANS?
The glaring issues are a lack of attention and a lack of resources.
So, the media (TV and press) currently give around 3% of the coverage they give to men's football to women's. And a woman in the top league will earn a mere fraction of what her male counterpart earns, with many elite female footballers still having to supplement their income by other means to continue playing. Both these factors mean that players are marginalised, and fans are less able to find and watch women's football.
The less obvious issues require more explanation because many have become normalised in the male bastion of football and people are not necessarily aware of the way they interlink and the impact they have on girls and women. They include a (lack of) knowledge of the history of women's football; a belief that the women's game is inherently inferior to the men's; sexist harassment of females at men's matches; sexist derogatory chanting which demeans females at men's matches; internalised misogyny among girls; social stigma for females attached to traditionally masculine sports; a lack of female role models; the cost for girls and women who want to play and find female teams to join; decreased quality of experience for fans and players due to inferior pitches and locations for women's games; and a lack of access for girls at school.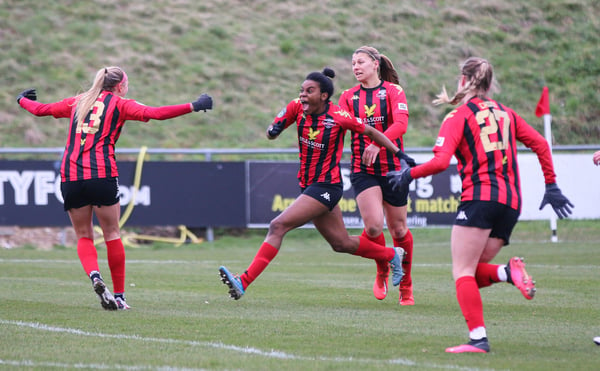 Lewes FC Women
It's clear from the above list that going to a women's football match and going to a man's football match are two quite different experiences. Whereas men's matches can be quite uncomfortable places for women (see the excellent work by Her Game Too), women's matches are more inclusive by nature. In order to play football women are challenging sexist stereotypes and attracting an audience of people who embrace a wider outlook, whereas men's matches unfortunately may include a contingent invested in a certain type of toxic masculinity that does not include women as equals.
YOU CLOSED THE GENDER PAY GAP AND ANNOUNCED EQUAL PAYING BUDGETS FOR YOUR WOMEN'S AND MEN'S TEAMS IN 2017. HOW DID YOU ACCOMPLISH THIS?
Indeed, we did! And in so doing, we became the first (and are still the only!) club in the world to resource our male and female players equally.
The short answer is that we made a board-level moral decision to raise the women's budget to match the men's and justified this with the belief that such a radical move would attract increased economic investment in Lewes FC.
But why Lewes? Why did this relatively little-known club in the Southeast of England become a pioneer of gender equality in a male bastion? How did we suddenly make international headlines, setting an example on a global stage? For this, we need a longer answer.
In 2010, Lewes FC became 100% community-owned, and in so doing shifted its agenda. Anyone could buy a share in the club for £30 a year (now from £50 for new sign-ups) and become an owner with the right to vote in the board of directors, and indeed to stand for election as a volunteer hands-on board member oneself. Envisioning a football club as a 'community asset', the elected board now focussed on creating value for the community it was part of – it would 'use football as an engine for social change'. The football club was 'of the people, for the people and by the people', and as such the Dripping Pan – that is the name of our historic, award-winning ground – should be welcoming to the whole community.
In 2016, Lewes FC Women were storming up the leagues. This success made the club directors question why they had regularly been putting 10x more resources into the men's playing budget when the women were also working hard and had reached the third tier of English women's football. They asked whether it would make more sense – in terms of the club's mission to use football as an engine for positive change – to put equal resources behind the men's and women's teams. By 2016, both first teams already played on the same pitch (unusual in women's football, as women were and are often still relegated to playing on inferior pitches away from the townsfolk who might otherwise watch them). Surely women's football deserved investment and development? Surely there were people out there who would be interested in this 'new product', if only they knew about it, could easily access it, and understood what it could offer them?
In the 2016 board elections, two male directors re-stood for the board on the radical basis that, if elected, they would ensure that both first teams had equal playing budgets and resources, such that Lewes FC would become the first club in the world to resource men and women players equally. They were successfully voted in and supported by the other Directors. But it is important to note that the board were not, at that point, unanimously behind the decision.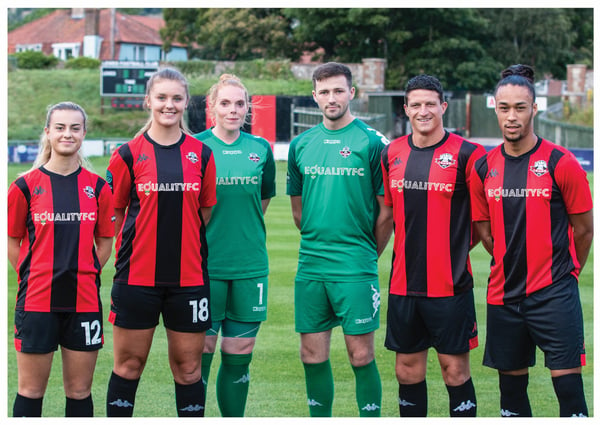 Equality FC
The club announced their gender equality stance (Equality FC) in 2017, using this video to appeal directly to their existing fans (mainly men), and football fans in general. It asked them bluntly, 'How do you tell your daughter she's worth less than your son?'
LEWES FC FURTHER RECEIVED RECOGNITION FOR MAKING ITS GROUND MORE INCLUSIVE TO WOMEN. WHAT SPECIFIC ACTIONS DID YOU TAKE TO MAKE FEMALE FANS FEEL MORE WELCOME?
This is a very significant question because once we'd introduced 'Equality FC' there was a lot of work needed to unearth a new market for women's football. You see, critics of the equal pay decision argued that the women didn't deserve to be paid the same as the men because they didn't draw the same crowd figures. But it is a particularly galling argument when you know the history of women's football. In a nutshell, the women's game was banned by the FA in 1921 when women were attracting higher audiences than men to their matches. The ban lasted for 50 years during which time the men's game had a total monopoly on resources including the lucrative broadcasting rights where a lot of money is wrapped up. By 1971, football was culturally a man's game – from boys taking over the playground with football matches at school, to the back pages of newspapers and Saturday afternoon telly, to women being objectified as WAGS at football matches – it was clear that women were not included in any valuable sense in the world's most popular sport.
So, Lewes FC embarked on a campaign called 'Unlock the Gate' to attract women to watch women's matches, in solidarity with the cause for gender equality.
This campaign involved:
talking to women's groups about the ban (many people were unaware of the former popularity of the game and the artificially created male football privilege).

specially designed and themed matchday posters featuring inspirational women unconnected with football.

theming women's matches (by purpose or cause) to appeal to a wider market.

offering pre-match women's chanting practice.

introducing Prosecco on tap in the bar.

book talks and choirs before kick-off.

a suffragette flash mob in Lewes precinct to march to the match chanting 'deeds not words', setting a record for the number of people in Suffrage costume at a football match!

vegan drink and food options in the ground.

designated, comfortable breastfeeding area.

free sanitary products in toilets.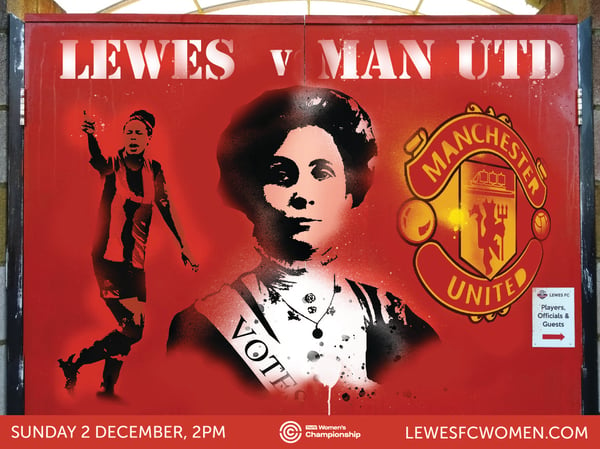 Matchday Poster
In fact, the campaign has never officially stopped, with more activations being added as more and more 'football virgins' give us feedback and join us to collectively hasten the course of history at the Dripping Pan.
We now have a formalised network of 'Sisterships' – groups who empower girls or women in some way – with whom we enjoy mutually beneficial and bespoke relationships. We've found a women's matchday is a great way to physically bring like-minded people together to build relationships.
YOUR MEN'S TEAM DEVELOPED A CAMPAIGN TO CALL OUT MISOGYNISTIC BEHAVIOUR IN THEMSELVES AND EACH OTHER. WHAT HAVE THE RESULTS OF THIS CAMPAIGN BEEN?
Our relationship with our Sisterships galvanised a crucial development for our men's team last season. After the widely publicised murders in the UK of Sarah Everard, Sabina Nessa, and sisters Nicole Smallman and Bibaa Henry at the hands of men, our Sisterships were despairing. We witnessed many online conversations between women about fear of being attacked or harassed by men and a lack of trust in the police. So, in another effort to use football as a vehicle for social change, Lewes FC Men publicly pledged to take responsibility and be accountable for misogyny and sexism when they found it in themselves and others. Understanding their influence as role models to others, our team and coaches took to Twitter to declare their accountability and how they were taking responsibility for the misogynistic soup we live in together.
Not only did women on Twitter breathe easier that these men were activating, but other men were inspired to do the same. The club are proud of the #CallHimOut campaign and hope to grow it so our first team can mentor our Under 18 Boys.
Members of the team and staff and directors at Lewes FC took part in a Bystander Training course offered by our sistership Survivors Network and learnt how to make our responses to witnessed abuse 'survivor-centric', and how to have conversations with perpetrators if we encountered verbal abuse at the Dripping Pan.
The campaign brought in new owners and fans, with the sports medicine specialist Dr. Eva Carneiro saying: "The work you do gives me hope that change is possible".
And it wasn't long before the local Labour party and Lewes Town Council also approved motions to adopt the #CallHimOut campaign amongst their own male members.
It's worth adding here that as we seek to make men's football a less toxic environment, we have also taken to presenting our Players of the Match with vegetables from our Community Garden within the ground, or hand-tied flowers from our local florist, rather than bottles of wine. We feel this is particularly effective at 'softening' the experience, diluting potential male toxicity in a small, but effective way.
Here's a picture of our prolific striker Joe Taylor receiving his bouquet from club Chair Stuart Fuller.
Details are important, as they send signals out to everyone who sees them!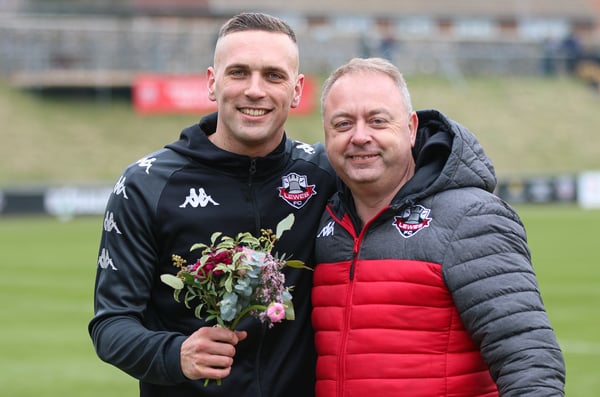 Jo Taylor and Stuart Fuller
AS A LEADER IN COMBATTING SEXISM IN THE INDUSTRY, WHAT ADVICE WOULD YOU GIVE TO OTHER FOOTBALL CLUBS THAT WISH TO FOLLOW IN YOUR FOOTSTEPS?
Firstly, we would say that if you had to pick the one hardest place in the world to talk about male and female inequality it would be football. It is like a world religion, and it is male-dominated – so don't underestimate the challenge.
Then: bring in women. Get women into decision-making positions, whether that's on the board as your CEO or crucially, on the ground talking to people and understanding their experience on a matchday.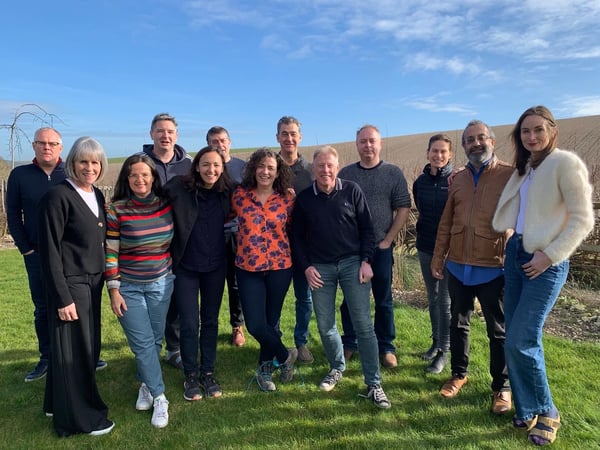 Picture of Lewes FC senior leadership team, Feb 2021
Make a top-level decision to value the women at the football club more and translate that decision into SMART actions.
A few starters for ten…
Ask where your women's team currently play, and if it's not at the same stadium as the men, question that. What does it say to the players and the fans about the women's team?

Ask who is on the board. If there are fewer women than men, question that. What does that signal to potential women fans and staff?

Talk to the women currently working at the club. They may be on the board or working on the bar, amongst the coaching staff, or as stewards. Ask them what their experience is, and work with them to find ways to improve it.

Examine your website and ask how and where you talk about your women's team. Is it for example, 'First team', and then 'Women's team'? Where can people find out about the women's matches? Are the men's team called 'men' in the same way that the women are called 'women' or is your club's name in fact, default male? Are the women, anachronistically, still called after toilets? (i.e., 'Ladies')?

Invite 'unwelcome women' into your club and make the environment attractive and welcoming for them. What's the lighting like in your club house? When you have events there, have you thought about cushions, for example?

Consider asking women's team players to host evenings explaining to potential new female fans the rules of football and giving them insider knowledge of the game (that worked well for us at Lewes FC). Beware of using men in this role as football is very prone to 'mansplaining' to women.
A crucial piece of advice, though, is to expect obstacles. There will be disagreement, ignorance, emotional responses, and even abuse from people already at your football club. You are changing culture and it is not easily done – resistance is human nature. But if you are prepared for this, you can manage your personal and collective expectations, boundaries, and energy more steadily.
FINALLY, WHAT DOES WINNING THE BEST DIVERSITY AND INCLUSION STRATEGY AWARD MEAN TO LEWES FC?
Receiving the award was an honour and a privilege, as we were in such incredible company among the other nominees. The evening was very special – a glittering event, expertly organised. We've worked very hard on inclusion with Equality FC and have done this whilst running a football club day to day. It has taken countless hours, much passion and vision, and is the work of many. They say it takes a village to raise a child, don't they? Well, we feel it takes a community – one that now consists of some 2,500 people in 40 countries around the world – all owners of Lewes FC - to support the growth of a pioneering football club. So, this award and recognition was widely and gratefully received – thank you!
We at Engage Business Media would like to congratulate Lewes FC on their win once again.
We hope that their story inspires others to invest in diversity and inclusion to drive positive change.
Those interested in entering the 2023 awards can do so from January 23rd until July 17th. To submit your entry, visit our awards platform.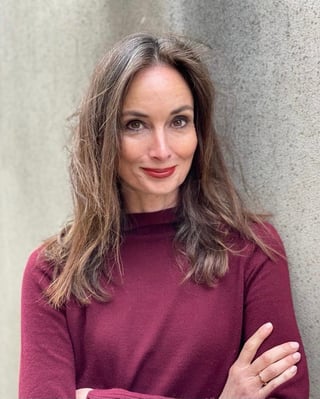 By Karen Dobres, Board Member of Lewes FC