Joan Bowen: "Ensure Managers Have the Confidence to Ask, 'How Are You Really?'"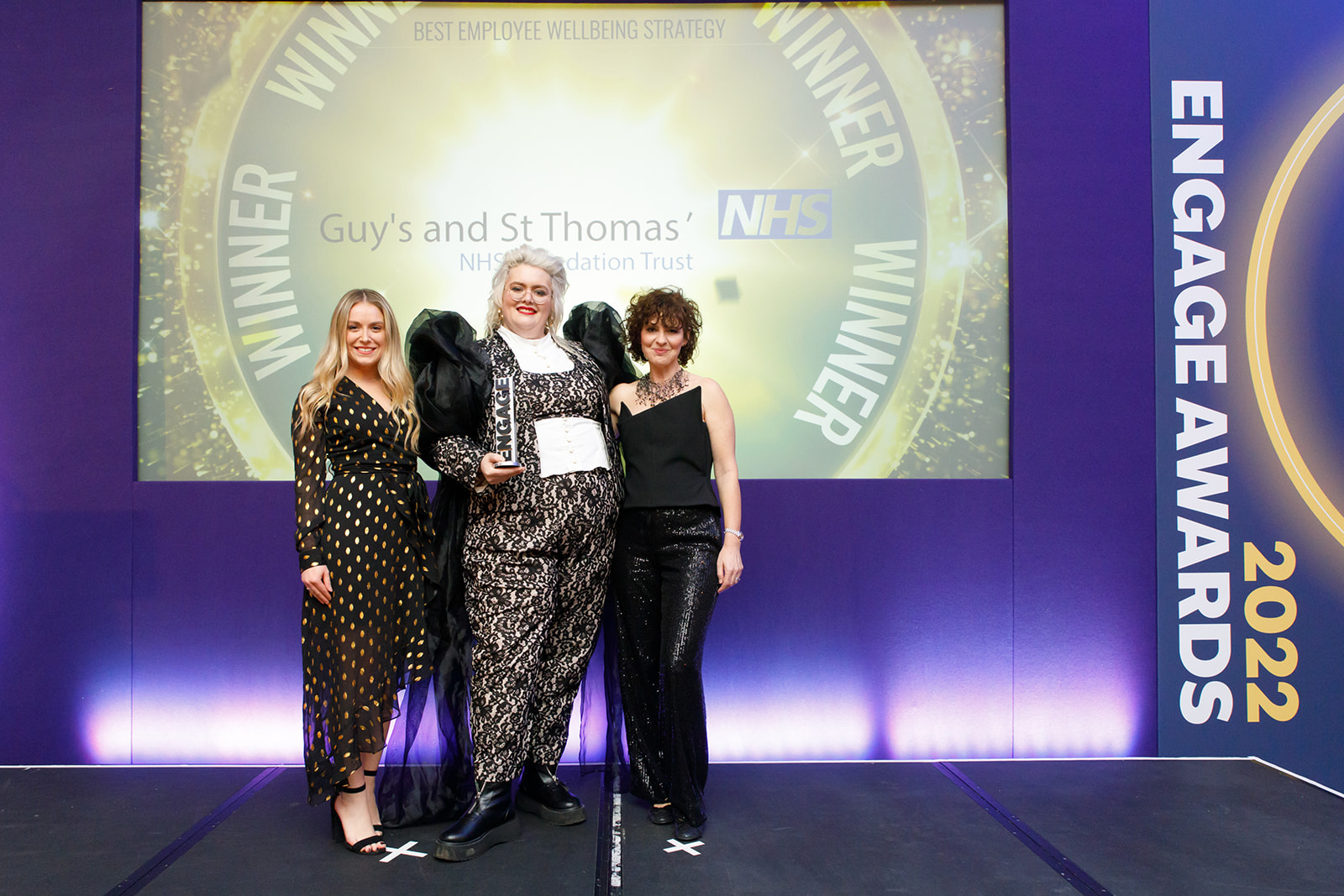 At the 2022 Engage Awards, Guy's and St. Thomas' NHS Foundation Trust earned the Best Employee Wellbeing Strategy award for developing a wellbeing and recovery plan to support staff during COVID. In an interview with EBM's Editor, Staff Health and Wellbeing Manager Joan Bowen spoke about this plan in-depth, sharing how Guy's and St. Thomas' NHS Foundation Trust supports its team.
YOU RECEIVED RECOGNITION FOR DEVELOPING A WELLBEING AND RECOVERY PLAN TO SUPPORT STAFF DURING COVID. COULD YOU SHARE A LITTLE BIT ABOUT THIS PLAN?
Guy's and St. Thomas' NHS Trust is a large and complex organisation employing around 25,000 staff, working across 5 main hospitals and over 100 community sites across Lambeth and Southwark. We provide the full range of lifelong, general and specialist care for our local communities as well as taking national and international specialist referrals that total approximately 2 million annual patient contacts.
Prior to the pandemic we already had a comprehensive health, wellbeing and rewards programme for our staff - 'Showing we care about you' providing information, guidance, benefits and expert help and support. The pandemic exacerbated the pressures already felt across the NHS whilst bringing significant additional challenges, pressures and uncertainties for all our staff. Working at pace with our amazingly generous charity, we were able to add an additional raft of help, support and expert input to meet the additional psychological, physical and personal challenges our staff had to face, at fast pace. A lot of the external support and input provided for NHS staff early on in the pandemic was focussed on access to shops, parking, transport for frontline health staff - all practically helpful but not offering emotional and wellbeing support.
We were able to significantly increase our staff psychology team to provide faster access to 1:1 input by self-referral and also to provide resource to support teams and departments with reflective circles and debriefs. We also expanded our spiritual care team, ensuring multi-faith chaplains dedicated to staff support were available across all sites - able to provide invaluable 1:1 and team support during turbulent times. We were able to set up temporary rest and recharge zones at our acute sites to give space and solace just for staff where they could have a moment of peace, a cuppa and access health and wellbeing experts and information. There was a need to increase the confidence and skill of our managers in being to provide wellbeing conversations with staff and so a virtual programme was rapidly commissioned, designed and then made available for any manager to enrol - with weekly scheduled and we made a peer-to-peer support programme available for any staff members who felt they needed additional skills to provide help and guidance to team members in front-line roles.
We doubled the size of our core wellbeing team to focus specifically on staff awareness of and engagement with the resources and support available and also set up a wellbeing champion network - with staff being able to volunteer up to 4 hours of their monthly work time to support their teams with wellbeing and signposting to services.
WHAT LESSONS DID YOU LEARN DURING ITS DEVELOPMENT AND IMPLEMENTATION?
Staff know what they need - by taking time to listen well rather than assuming - we were able to focus on the things that would make the biggest difference. Also, when staff are involved - engagement and awareness is higher and we naturally create a network that can promote and signpost the resources and support locally which is invaluable for an organisation of our size.
We didn't try and duplicate what was already being provided externally - by NHS England, the government or community organisations/businesses. Instead, we utilised funds to focus on the elements that we knew staff needed that we would be able to shape and design better in-house and worked at pace to put these in rapidly rather than trying for perfection before launch.
By ensuring we had checks and metrics in place as well as governance processes for all new initiatives, we could rapidly observe whether these solutions were working/impactful and also we could evolve what we put in place, adjust or enhance accordingly. This was so important and also showed us that it could be done at pace even in a huge NHS organisation. By having our board and key stakeholders briefed and on board - decisions were made fast and staff benefitted rapidly. We could also stop initiatives that were not working and divert funds elsewhere - reducing waste and ensuring best fit.
We have maintained this pilot approach to our wellbeing initiatives since - it is far quicker to go from a proposal to project if we do a rapid pilot to test proof of concept before rolling out more broadly. This allows us to check impact, tweak and adapt and then know that this will work before we launch more broadly.
Clear communication is essential - we put work groups in place that had responsibility for rapidly feeding back themes and how initiatives were landing locally - allowing us to ensure that we were focussed on the right things and that adaptions could be made when and where necessary.
WHAT ADVICE WOULD YOU GIVE TO OTHER COMPANIES SEEKING TO ENHANCE STAFF WELLBEING?
Ensure that staff with the most significant health and wellbeing needs know what support is available to them and provide expert input and professional care for staff. When staff are really up against it and desperately need expert help and input, they don't have the time or space to start clicking around intranets or search engines. All staff need to know is where to go when they really need physical or mental health expert support, so find ways of ensuring this is easy to find at point of need.

Managers are critical in staff wellbeing - they will likely be the first people to become aware that someone is struggling, or things have changed. Ensure managers have the confidence to ask, 'How are you really?' and the patience and skills to support these conversations which may be a lifeline to a team member. Managers need to have an objective dedicated to team wellbeing that is reviewed alongside their other performance measures and need to be kept up to date with all the support and expertise that they can signpost staff so they also feel supported and safe.

There is no easy, off the shelf solution to staff wellbeing - much as many will try and sell it to you. It may tick the organisational health and wellbeing boxes, but it won't really move the needle for the people who need it most. So... listen well to hear what the needs of staff are, base decisions/solutions on good evidence rather than the glossy brochures, go for the simplest solution you can - it will often be the most inclusive one for staff and pilot, review, tweak, adjust rather than going for perfect. It will never be perfect... but you've got to have a 1.0 before you improve it!
Engage Business Media would like to congratulate Guy's and St. Thomas' NHS Foundation Trust on their win. Those interested in sharing their success stories and entering the 2023 Engage Awards/Engage B2B Awards, can now submit their entries here.
The deadline for submissions is July 17th, with judging set to commence on July 24th.