Inspiration For Businesses at The Edinburgh Fringe Festival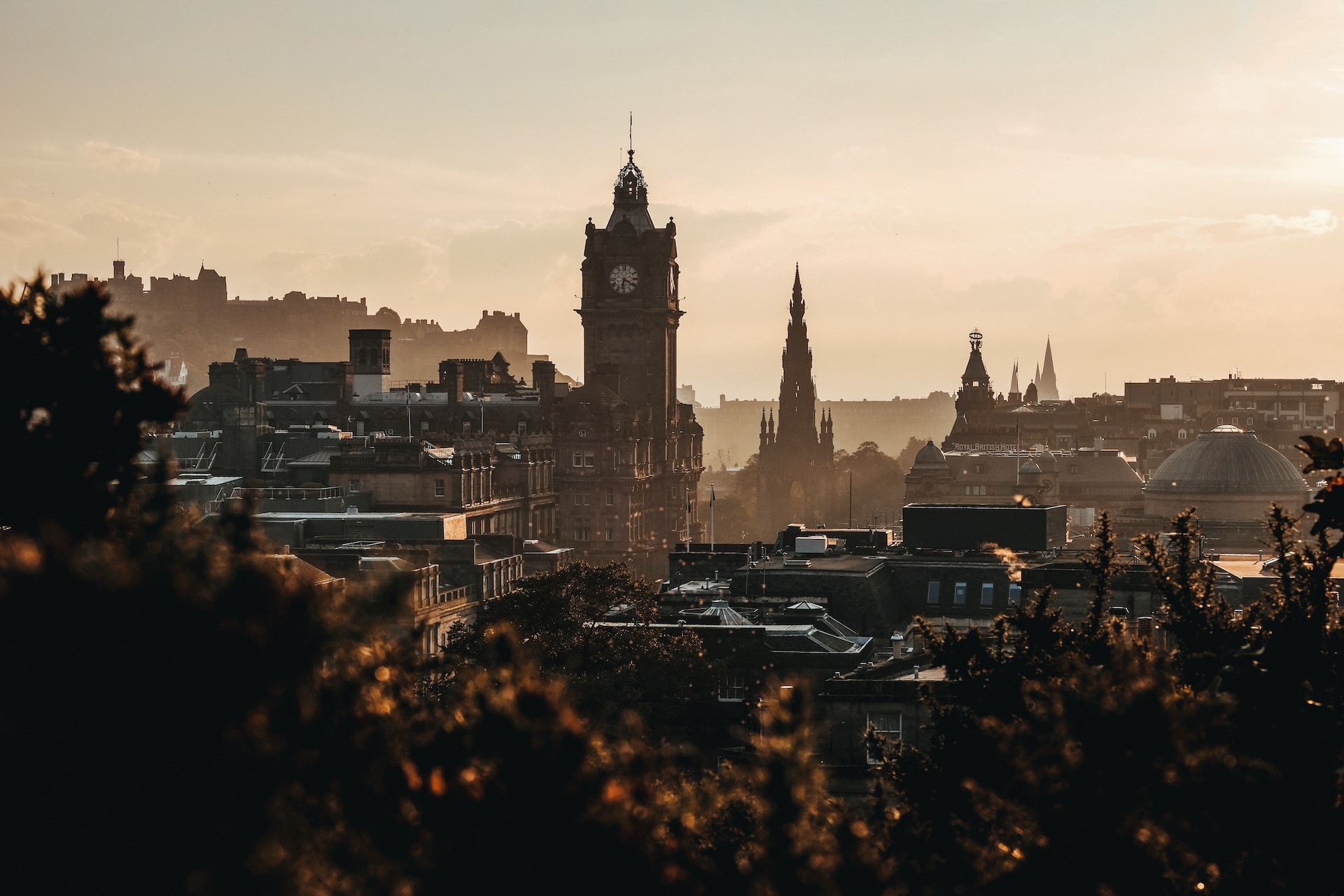 The Edinburgh Fringe Festival is renowned for its eclectic mix of culture and entertainment. Within the festival are opportunities for business leaders to learn about transformation and innovation from the very methods that make great theatre so dynamic and engaging.
The Big Bite-Size Breakfast Show, a beloved institution at the festival, is this year celebrating its 15th anniversary. Beyond its theatrical appeal, that has delivered sell-out shows at 10.20 in the morning, this unique production bridges the gap between pure entertainment and great insights that can be brought back to the workplace after the Festival.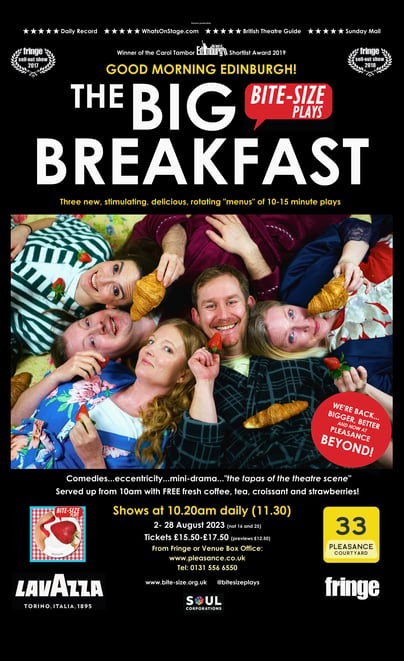 Here's a few of the methods used to give inspiration to business leaders.
BREAK (BAD) HABITS WITH FRESH IDEAS
Businesses can fall into habits, and some of them might be bad habits. There's a management meeting every Monday and the format is the same each week. Energy is low and so is creativity.
The Big Bite-Size Breakfast Show shows you how to inject energy with three daily rotating menus of 10-15-minute plays, each with a distinct theme and tone. As the Show highlights, embracing diversity – in terms of ideas, perspectives, or strategies – leads to increased creativity and a more engaging work environment, much like the varied performances that delight their morning audiences.
In fact, in recent years, actors from Bite-Size Plays' productions have helped create immersive encounters with customers and employees to inspire leaders to embrace change.
CREATE AN INVITING, HUMAN ENVIRONMENT
As humans we feel before we think. The moment you come into an environment you are making a decision about whether you like it or not. Every guest coming to The Big Bite-Size Breakfast Show is welcomed by the cast and offered complimentary coffee, croissants, and strawberries. This warm atmosphere sets the stage for the audience to be more receptive to the performances, analogous to creating a positive and inclusive workplace culture where employees feel valued, resulting in increased productivity and loyalty.
In 2011, Nick Brice used some of the Bite-Size acting team to create a performance ethos for his local football club in Brighton. The team now compete in European football and still embrace these values across the Club.
CULTIVATE BRAND LOYALTY
With so much change in the world, consistency is critical in keeping people feeling safe and secure. Building brand loyalty requires not only providing high-quality products or services but also engaging consistently and authentically with customers across digital and human touchpoints.
Since its inception in 2008, The Big Bite-Size Breakfast Show has built a wonderfully loyal following. Every year people return to the same atmosphere created through the use of gingham and strawberries indicating the power of consistent quality and engagement.
NURTURE EMERGING TALENT
In the business world, investing in emerging talent leads to innovative ideas and solutions, contributing to the organisation's growth and success. And real success comes when businesses listen and learn from new and different viewpoints, rather than just inducting people into 'the way things are done around here'.
The Big Bite-Size Breakfast Show has given an international platform to more than 170 emerging UK and international writers and over 100 talented performers, producers and directors, reflecting its commitment to nurturing new talent. Every year these brilliant people change and adapt the production so it is constantly evolving.
DELIVER SHORT, SHARP, HIGH IMPACT COMMUNICATION
Concise, impactful communication enhances understanding and decision-making in a corporate setting, making meetings and pitches more productive.
The bite-sized format of the plays is a compelling feature. It signifies the power of brief yet impactful presentations, a lesson valuable for businesses.
Nick Brice, the company's founder, works with executives and leaders of global organisations, government and national businesses on how to lead highly engaging meetings, create and deliver impactful presentations with real presence.
CELEBRATE MILESTONES
Businesses are often going at such a pace that they forget to mark milestones and achievements. Celebrating milestones, whether it's a project milestone or completion, an anniversary, or hitting a sales target, is equally crucial in business. It boosts morale, fosters a sense of belonging, and encourages employees to strive.
The Show's 15th anniversary celebration is a significant milestone, reflecting its growth and success in a highly competitive environment. At the Edinburgh Fringe Festival 2022 there were 3,334 shows with 2.2 million tickets on sale.
KEEP THINGS FRESH
Constantly evolve, innovate, and keep offerings fresh to maintain customer interest and stay competitive.
The Big Bite-Size Breakfast Show's approach of offering rotating 'menus' of plays ensures that audiences always have something new to look forward to. Nick Brice, the Show's founder, describes the production as "a refreshing place to be each morning with three rotating menus of stimulating theatrical morsels."
Take this approach into business and you'll have a vision of what a thriving, creative, and inclusive business environment could look like.
Nick is currently working with a marketing services company to help them collaborate to devise and deliver stand-out pitches as a team, again powered by methods used in theatre.
IN SUMMARY
The Big Bite-Size Breakfast Show's provides a unique case study of how theatre's methods can inspire and revolutionise business practices. By breaking habits, creating a welcoming environment, cultivating loyalty, nurturing emerging talent, delivering impactful presentations, celebrating milestones, and continuously innovating, businesses can create a dynamic and engaging environment akin to the captivating world of theatre. As the Show has demonstrated, such an approach can lead not only to business success but also to a thriving, creative, and fulfilling work culture.
If you're in Edinburgh, meet Nick and the team for a show and if you'd like to talk about some of the applied theatre programmes he's working on, a coffee after!
About the Production
Title: The Big Bite-Size Breakfast Show.
Performance Dates: Wednesday 2nd to Monday 28th August, 10:20 (not 16th or 25th).
First Review Date: Saturday 5th August.
Running Time: 70 minutes.
Location: Pleasance Courtyard @ Beyond, 60 Pleasance, Edinburgh EH8 9TJ.
Box Office: Tickets are available at

www.pleasance.co.uk

or 0131 556 6550.
Previews (2nd to 4th July): £12.50 ; Full Price: £17.50 (£16.50) Fresh coffee, tea, croissant and strawberries included in ticket price.
Performers: Rosie Edwards, Tom Hartwell, Claira Amy Parr, Polly Smith, Thomas Willshire.
Director: Tom McCarron.
Founder/Artistic Director: Nick Brice.
Producers: Bite-Size Plays.
Social: Web: www.bite-size.org ; Twitter: @bitesizeplays ; Instagram: @bitesizeshortplays.
Notes: 12+