Engage Awards: The 2022 Winners and Their Employee Engagement Strategies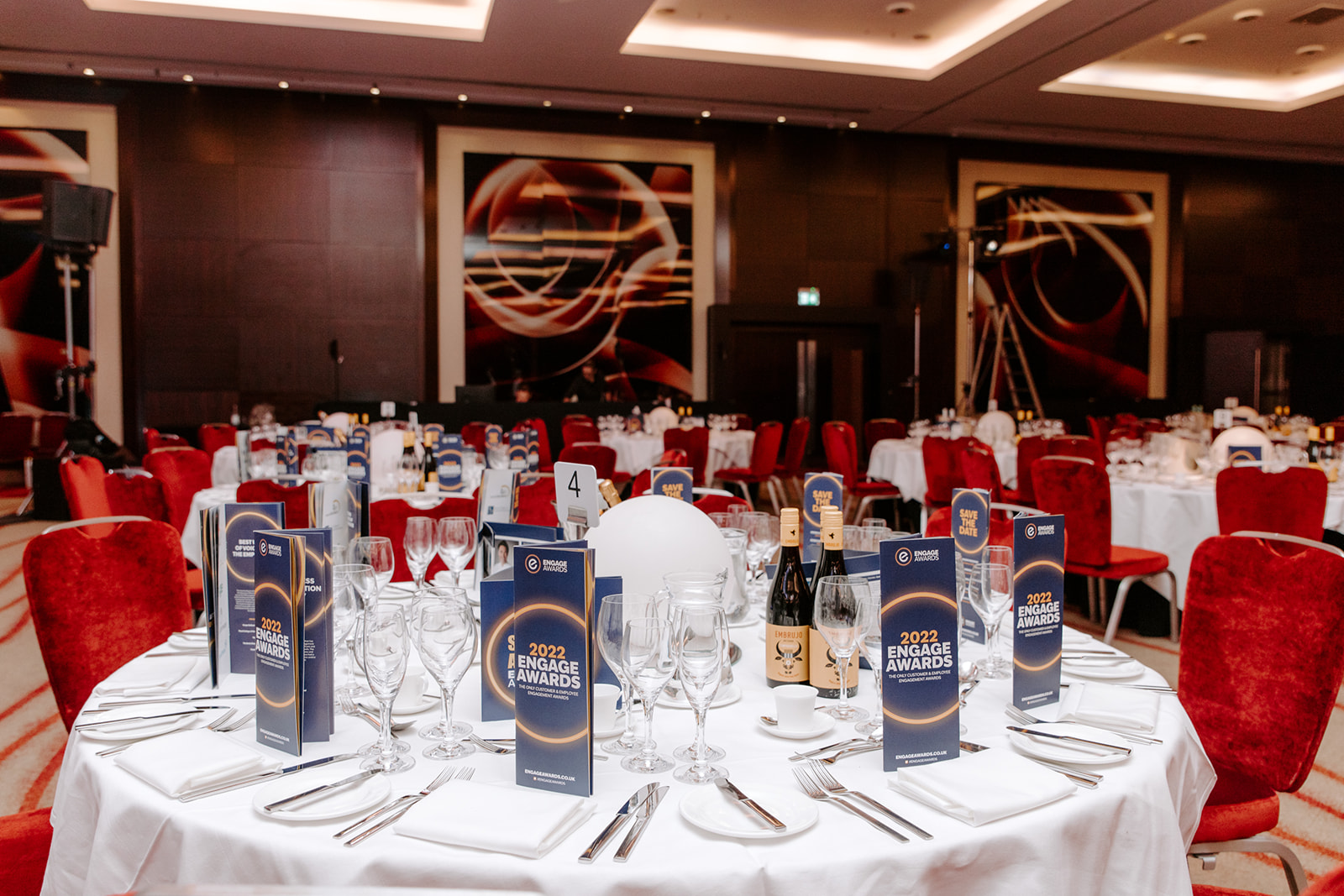 Earlier this month, Engage Business Media held the annual International Engage Awards at the Westminster Park Plaza in London. Celebrating 20 organisations for their customer and employee engagement strategies, this prestigious black-tie event is the only one of its kind. As such, it is not surprising that over 200 companies entered the 2022 awards with the hope of having their engagement efforts recognised.
After enjoying a three-course meal at the largest hotel events space in London, the event's 400 guests applauded as comedian host Jayde Adams announced this year's 20 award winners. Since the Engage Awards celebrate efforts in both customer and employee engagement, 13 of the 20 award winners received recognition specifically for elevating their employee experience. (Learn more about the CX award winners here.)
WHO WERE THE WINNERS AND WHAT WERE THEIR STRATERGIES?
1. Great Place to Work – Paddle
The B2B tech brand Paddle received the Great Place to Work award for introducing Paddle@Work: a fully flexible, digital-first approach that allows employees to work how and where they want. In addition to this, the tech brand also launched a programme called 'Navigate', enabling its employees to work from anywhere in the world for up to 45 days a year and giving them Airbnb vouchers to support their first trips.
Another notable move is the company's introduction of Juno, a wellbeing platform. Using this system, Paddle's employees can convert a monthly allowance of points into spa days, exercise classes, or house plants, among others. Discussing this platform, Paddle shared that it allows them to support employee wellbeing without prescribing what it is.
2. Best use of Technology in Employee Engagement – Balfour Beatty
The international infrastructure group Balfour Beatty was awarded for its use of technology to evolve its employee listening approach. Wanting to attract and retain talent in a highly competitive market, the group partnered with the engagement specialists Inpulse to use their innovative technology and elevate employee engagement.
Moreover, the two are now working to develop 'Precision': an AI tool that targets employees with low engagement to identify key issues and bring them to the attention of executives.
3. Best Employee Wellbeing Strategy – Guy's and St Thomas' NHS Foundation Trust
Guy's and St Thomas' NHS Foundation Trust received an award for improving the wellbeing of its staff during and following the outbreak of COVID. While healthcare professionals had access to discounts, free parking and dedicated shopping hours, this support was mainly practical.
For this reason, Guy's and St. Thomas' NHS Foundation Trust developed an additional staff wellbeing recovery plan to their comprehensive staff wellbeing programme, Showing we care about you. This additional support, developed and implemented at pace thanks to financial support from their Charity continues to provide enhanced mental wellbeing and recovery support that includes access to clinical psychologists, wellbeing conversation training for managers, dedicated staff wellbeing zones and staff chaplains.
4. Best Use of Innovation in Employee Engagement – National Grid & Ruder Finn
National Grid, in partnership with Ruder Finn, won an award for connecting their global employees with the company's clean energy vision. To achieve this, the company used its Principal Partner status with COP26 to break down silos, educate employees about its net zero goal, and boost morale at a time when employees were still feeling the effects of the pandemic.
Furthermore, National Grid launched the 'Countdown to COP26' newsletter and the COP26 Yammer Community, where employees could come together to discuss the summit and share their personal stories of sustainability in action.
Expanding on their plans, National Grid shared: "Now that our colleagues understand our clean energy vision and why it is so important, we are able to shift the conversation onto how we can make it happen as a global team."
5. Best Diversity and Inclusion Strategy – Lewes Football Club
Lewes FC received the Best Diversity and Inclusion Strategy award for tackling sexism in the football industry. Seeking to eradicate inequality, Lewes FC announced equal paying budgets for its men's and women's teams, closed the gender pay gap, appointed a woman as its first CEO, and attracted a board and senior leadership team of 50:50 men and women.
Taking this further, it introduced a zero-tolerance policy on discriminatory language and created breastfeeding areas to make its grounds more inclusive. Showing their support, the men's football team also developed a #Callhimout campaign to call out misogyny and sexism.
6. Best Use of Training – Webhelp
Webhelp, the leading provider of outsourced Customer Experience Management services won the Best Use of Training award for working to transform the future workforce in South Africa. To do so, Webhelp worked with long-term partner Harambee, alongside BPO Skills Academy to create a Skills Accelerator model that would help employ disadvantaged youth.
The award winner saw the need to develop this new model as part of its impact hiring programme after finding that unemployment rates in South Africa had grown to 46.3% for those aged between 15 and 34, with nearly two-thirds of qualified graduates not in employment or further education.
7. Best Flexible Working Initiative – TransUnion
The global financial services organisation TransUnion was awarded for its Hybrid Working model, Flex Together. With this new model, the company has no mandated days in the office and its employees can set their own work locations and hours.
This initiative came after the outbreak of the pandemic, when TransUnion also introduced days off for personal wellbeing, flexible Fridays, and 3 days of volunteer time. Beyond this, it equipped its workers with wireless kits and organised lunchtime yoga to promote wellbeing.
More recently, TransUnion held a new, all-colleague wellness event called WellFest to bring people together for the first time since 2020.
8. Best Customer and Employee Engagement Programme – NatWest
NatWest received this prestigious award for its efforts to resource 25% of its 2021 hires from socially disadvantaged and underrepresented backgrounds. In their award entry, the commercial bank explained that the aim behind this action was to better represent the communities they serve.
Thus, with this objective in mind, NatWest launched the Social Mobility Apprenticeship Programme. Thanks to its implementation, the bank has helped 150 young people secure a career and receive a Level 2 qualification in Financial Services.
9. Best Business Transformation Strategy – Sky
Sky was presented with the Best Business Transformation Strategy award for transforming its retail operations from transactional to experiential. In other words, the organisation launched a Retail Transformation Plan which upgraded its existing hubs and created new opportunities for customers.
In addition to this, Sky embarked on its "biggest ever investment in people"; that is, it introduced a new advisor leadership programme, created new training opportunities, and established a new pay and reward scheme.
10. Best Use of Knowledge Sharing – IBM Consulting
IBM Consulting received an award for its knowledge management strategy after undergoing a significant business transformation. According to its award entry, the corporation has simplified its knowledge-sharing landscape using a dedicated Content+ programme and a custom-built content management platform called "Lighthouse".
Taking this further, the corporation makes use of investigative journalism and storytelling techniques to share the stories of its largest and most strategic client projects. In this way, it enables its teams to replicate their successes.
11. Best Internal Communications Strategy – Affinity Water
UK's largest water supplier Affinity Water won the Best Internal Communications Strategy award for tackling internal instability following the outbreak of COVID. To achieve this, it listened to its colleagues, defined issues through their eyes and examined the causes behind them to develop an employee-centric internal communications strategy.
As part of this strategy, Affinity Water held an all-company event to bring all its employees together for the first time ever. What is more, it assigned culture ambassadors to listen to the needs of employees and launched a monthly recognition programme called 'Our Principle Stars'.
12. Best use of Voice of the Employee – Royal College of General Practitioners
The Royal College of General Practitioners was awarded for developing a people-centric plan using its employees' voices during COVID. The College's 3-year People Plan strategy focused on 5 key areas that would promote staff wellbeing and improve business areas that needed strengthening. More specifically, the strategy focused on digital maturity, employee engagement, inclusion, organisational effectiveness, and wellbeing.
Discussing the People Plan strategy, the College noted: "The key to its success is that it is the plan of the people, by the people, and for the people."
13. Best Employee Centric Strategy – Croftstone Management Limited
Croftstone, a new Consultancy serving the Rail & Infrastructure sector, won an award for developing a market leading people strategy to attract and retain talent in a highly competitive market. Aiming to increase the satisfaction and engagement of its 100% remote team, Croftstone redefined its people vision, launched and embedded its company values, introduced cutting edge inclusive people policies, and redesigned its communication infrastructure.
In just 6 months, the company presented its employees with a new grading structure and benefits package, a cloud-based HR platform, an Employee Value proposition, and a new L&D strategy. It has seen a significant movement in employee NPS and employee experience measures as a result.
We would like to congratulate this year's Engage Awards winners for their innovation and excellence in customer and employee engagement.
Next year, the black-tie event will take place at The Brewery in London on November 28th.
Entries for the 2023 Engage Awards will open in January.