3 Key Takeaways from the Future of Work Conference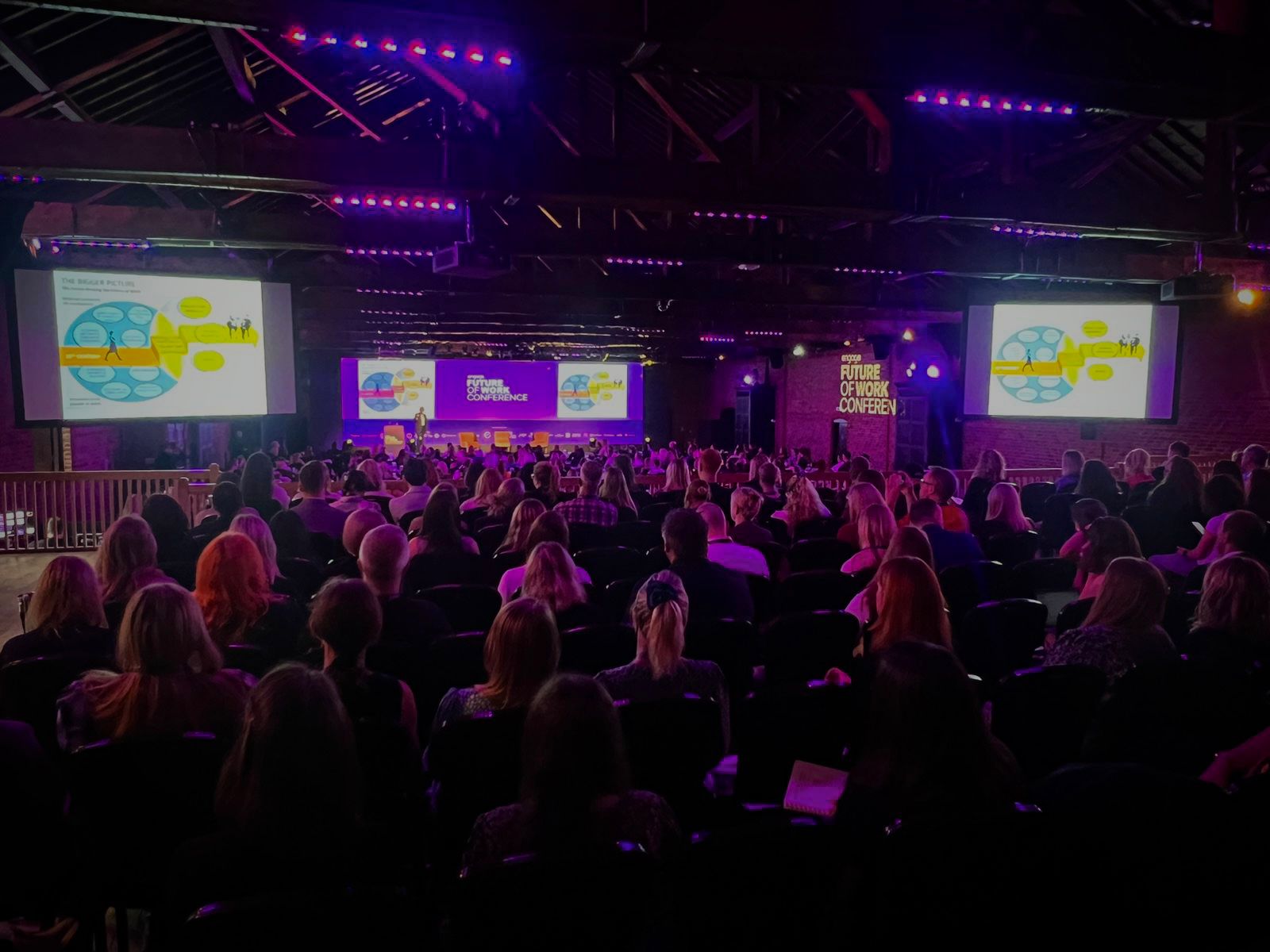 On Wednesday 11th, we held the much-anticipated Future of Work Conference at The Brewery in London. With a record-breaking number of delegates attending this event, we are proud to announce that the conference was a success; that is, everywhere you looked, you could see attendees passionately discussing the latest developments in HR, searching for solutions that enable them to keep up with the advancements in tech and AI, and networking with speakers from world-renowned brands.
Taking place across 5 rooms, the conference offered something for everyone. More specifically, it touched on a variety of topics, from flexible working through to Artificial Intelligence and its impact on HR.
Having had the privilege to sit in on many of the day's sessions and hear the stories of numerous inspiring speakers, I am pleased to share a few highlights from the day.
1. YOUR PEOPLE ARE JUST AS IMPORTANT AS YOUR STRATEGY
The first speaker of the day was David MacLeod OBE, Co-Chair of Engage for Success. Having been awarded an OBE for his services to Employee Engagement and Business in 2013, it is not surprising that his session stressed the importance of looking beyond your strategy and integrating your people. According to him, leaders must focus on treating people as individuals.
"I'm not a human resource, I'm a human being."
2. 'BARACK OBAMA' WELCOMED OUR DELEGATES
Sebastian Hoff, Principal Strategic Advisor at Staffbase, wowed the audience when he introduced his presentation with a speech by Barack Obama. In this speech, the former US President welcomed the audience to the Future of Work Conference and touched on the topics speakers would debate throughout the day.
"Obviously, this is not the real Barack Obama," Sebastian said following the speech, revealing that it took him just seconds to record the speech.
This resulted in mixed reactions: concern about AI's capabilities and excitement about its possibilities. While Sebastian presented the positives and negatives of AI adoption, he stressed that it is inevitable.
"AI might not replace you, but someone using AI might."
3. PEOPLE AT ALL LEVELS HAVE TO SEE THEMSELVES IN YOUR STORY
One of the most highly rated sessions of the day was a fireside chat discussion featuring Fortnum & Mason's Head of Employer Brand, Sam Bleazard. Revealing that Fortnum & Mason has staff from 60 different nationalities, Sam stressed the importance of representation in storytelling.
Taking this further, he encouraged the audience to be brave, to believe in themselves as storytellers, and to tell the story that is not being told.
"It's very dangerous when brands are not brave enough to be authentic in their storytelling."
Over the coming days and weeks, we will delve deeper into the topics discussed at the event. In addition to this, we will be publishing post-event interviews, audio recordings of panel discussions and fireside chat sessions, as well as on-demand videos from some case studies.