Which country comes out on top for employee engagement ?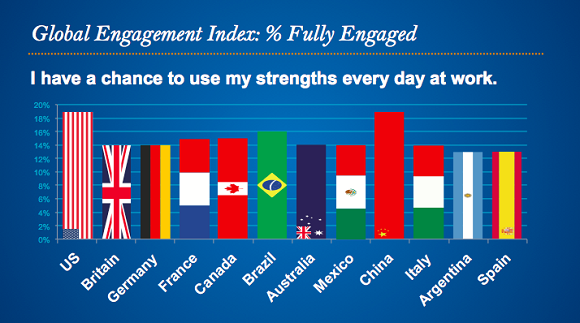 A new survey measures employees' engagement for 13 countries .
Over the last 20 years, numerous research studies have revealed the causal link between employee engagement and positive business outcomes.
Teams and business units with higher engagement levels produce statistically significantly higher levels of performance, quality, safety and retention. With organizations becoming increasingly global, there is a need to compare business unit levels of engagement across countries consistently and reliably.
This is problematic, not least because different countries respond to ratings scales in different ways. For example, South Americans and southern Europeans are much more likely to use the positive extremes of a scale than Chinese, Japanese or Germans. Any employee engagement metric that does not accommodate these country-specific differences will yield consistently distorted data, leading to inaccurate and misleading cross-country comparisons. Two years ago, The Marcus Buckingham Company (TMBC) set out to design and build a Global Engagement Index (GEI) that could take into account these inter-country differences and produce reliably comparable data. In this paper, we present the research undertaken to build the GEI and the results of its deployment across an initial study group of thirteen countries